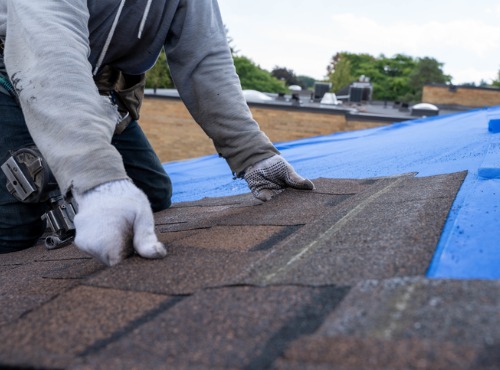 How to Find the Right Commercial Roofers in Pontiac IL
Roofing services involve a significant investment, so you want to feel confident about finding the right commercial roofers in Pontiac IL. After all, you rely on your commercial building to make customers feel welcome. If it is in a state of disrepair, it sends the wrong message about your company. Therefore, you need qualified roofing professionals who provide the best performing products to keep your property well maintained.
Popejoy Roofing contractors bring more than 25 years of experience with roofing products and services. Plus, we only use licensed, bonded, and insured laborers to perform the work. In addition, our owner oversees all work to ensure it gets done right. For that reason, we offer a 10-year workmanship warranty. So, we will fix any issues caused by our labor for free. Most importantly, we use our partnership with Malarkey to provide you with the finest quality roofing materials from Vista, Highlander, and Legacy. Thus, you get products that come with up to 30 years of warranty protection.
Contact us now if you would like a free quote. We will respond within 1 to 2 business days.
Look at Customer Reviews
Make sure to check out reviews from customers about a company's products and services when you want to find the right commercial roofers in Pontiac IL. You will want to avoid companies that do not have many people with good things to say about their work. Often, customer reviews will tell you about whether roofers finish work on time, perform quality work, and communicate well. Thus, they provide you with a great free resource to get a feel about the performance of certain roofing companies.
Popejoy Roofing wants prospective customers to know they can always count on our business to provide open, honest answers about our work. For that reason, we post our customer reviews on our website to help you shop for services. Our reputation for providing quality commercial and residential roofing products and services is second to none.
Check for Proper Licenses
Several fly-by-night roofers will drive through neighborhoods with storm damage, offer cheap estimates, and skip town after performing shoddy work. Unfortunately, saving some money in the short team could cost you big if your roofing materials do not get installed properly. So, make sure to check on credentials when you want to find the right commercial roofers in Pontiac IL. A reliable roofing company will not hesitate to show you licenses that assure labor gets done by qualified contractors.
Popejoy Roofing uses only licensed, bonded, and insured roofers on all our projects. That way, you can remain confident that you will receive quality workmanship. All our contractors contain the experience and training you want for your roof repair, roof replacement, or installation of new roofing.
Get Answers to Your Questions
It is important to get answers for the matters concerning you when you are trying to find the right commercial roofers in Pontiac IL. After all, you want to know how long the project will take and how much it will cost. Plus, you do not want to waste a lot of time and have to make repeated calls to get the information you want. So, make sure you get all the questions you have for your project answered to your satisfaction by roofing companies. That way, you can make a confident choice on the right commercial roofers for your building.
Popejoy Roofing makes it fast and easy to get the answers you want. That is why we pledge to respond within 1 to 2 business days on all requests for quotes. After all, you do not have a lot of time to waste if you have a roof leak, missing shingles, or hail damage.
Contact Our Commercial Roofers in Pontiac Il
Popejoy Roofing contractors can help you if you are trying to find the right commercial roofers in Pontiac IL. In fact, we can provide a roof inspection and give you suggestions. Unlike some other roofing companies, we also have extensive experience with flat roofs. So, count on our qualified roofing experts for the best commercial roofing solutions. In addition, we also provide flashing repair, chimney flashing services, gutter cleaning. So, give us call now at 217-600-2464 or fill out our online form to request a free estimate.