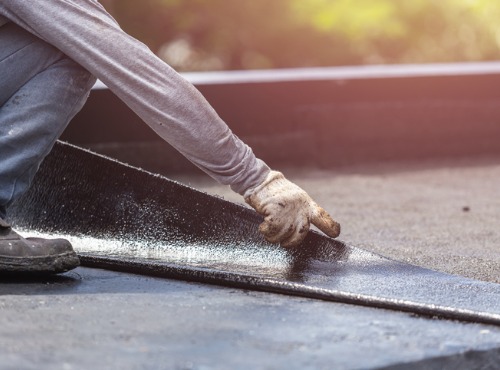 Installation or Repair of Flat Roofs in Macon County IL
Popejoy Roofing is a top-reviewed local contractor that provides installation or repair of flat roofs in Macon County IL. All our roofing experts come licensed, bonded, insured, and trained to perform all work on both residential and commercial roofing. Plus, our company partnerships with Malarkey to provide premium products. Consequently, you receive the bet roofing materials such as shingles from Legacy, Highlander, and Vista. These products come with the some of the best product warranties available with up to 30 years of protection.
With more than 25 years of experience, Popejoy Roofing has installed enough shingles to stretch from Central Illinois to the East Coast. Our owner provides supervision of every jobsite to provide quality assurance. In fact, we are so confident in our workmanship that we will fix any problems created by our labor free of charge. Consequently, you can remain confident with our company that your home will not get exposed to damage from shoddy installation. For a free quote, give us a call now at 217-600-2464 or send us an email. When it comes to roofing, Popejoy Roofing has you covered!
Fix Alligator Skin on Flat Roofs in Macon County IL
On some flat roofs in Macon County IL, roofing materials have bubbled or cracked and started to resemble the skin of an alligator. With exposure to UV rays, the coating on your flat roof dries out and cracks. As a result, water can start to seep into your commercial building. When that happens, water will damage wood components in your roof and the interior of your structure. If your roof already shows signs of alligator skin, it means your roof has aged to the point it needs replacement roofing.
Is Moisture Accumulating on Your Flat Roof?
A flat roof will often struggle with issues from moisture accumulation and pooling of water. Without regular maintenance, the pooling of water on your flat roof will eventually cause leaks. Commonly, water will leak into areas with flashing, vents, chimneys, and roof-mounted air conditioners or heat pumps. In addition, water left stagnant on a flat roof over time will cause problems with mold, fungus, and algae growth. Thus, your business should get periodic inspections of your flat roof to see if you are developing a moisture problem. If mold and fungus are already present, you will need installation of new flat roofs in Macon County IL.
Buckling Membranes on Flat Roofs in Macon County IL
Most flat roofs in Macon County IL are built with a membrane that gets soaked with asphalt. Unlike roofs with shingles, a flat roof membrane consists of only one, large piece that protects your whole building. As it ages, the membrane will start to shift and move around as your structure settles. As a result, the membrane will buckle and compromise the integrity of your structure. Contact Popejoy Roofing to get replacement roofing if your membrane has severe buckling problems.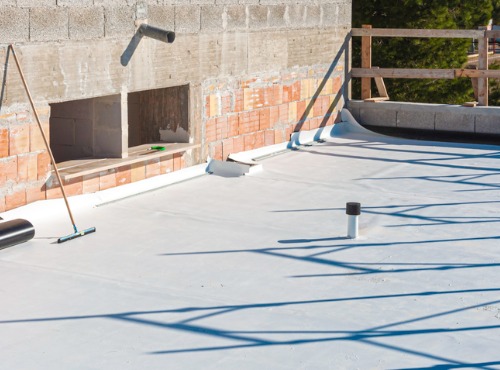 Other Home Improvement Services Available
In addition to installation or repair of flat roofs, Popejoy Roofing offers other services that protect your building from damage. Read information on the following links to find out more about our services.
Free Quotes for Work on Flat Roofs in Macon County IL
Popejoy Roofing will answer any requests for an estimate within one or two business days. If you need repair or installation of new materials on flat roofs, call us at 217-600-2464. For more information, you can also ask us a question by filling out our online form. We welcome the opportunity to show you we provide the best service in the industry!