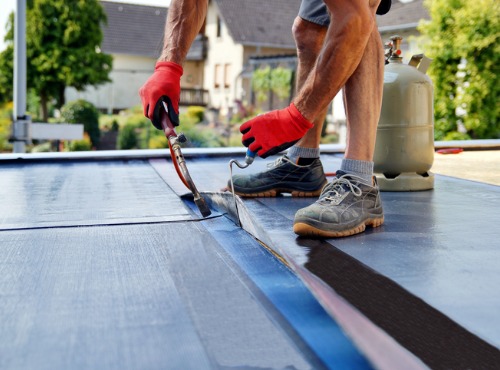 The Best Rated Contractors for Commercial Roofing
Popejoy Roofing contractors provide products and services that earn some of the highest customer satisfaction scores for commercial roofing in Central Illinois. When you partner with our local roofing business, you receive the following benefits:
5-star customer service
Professional contractors who are licensed, bonded, and insured
A 10-year warranty on our workmanship
A Malarkey Roofing partner that products superior roofing products, including Legacy, Vista, and Highlander shingles
Shingles that come with a roofing industry best 30-year warranty
25 years of commercial roofing service to communities throughout Central Illinois
Company owner John Popejoy present on job sites to provide quality assurance
Complimentary roof design tools available to you
Free estimates within 1 to 2 business days of your commercial roofing quote request
Our Commercial Roofing Service Area
John Popejoy established Popejoy Roofing with a commitment to helping friends and neighbors he grew up alongside his entire life. He was born and raised in Central Illinois, earning degrees from Parkland Community College and Eastern Illinois University. After years of success as a partner with Corn Belt Roofing, he branched out on his own in 2016 with Popejoy Roofing. His desire to provide quality roofing products and services has allowed us to extend our service area to the following communities:
Commercial Roofing Installation
Popejoy Roofing contractors handle all projects when it comes to commercial roofing installation. Our licensed contractors work on both new roof installation for design-build commercial construction projects as well as roof replacement for an existing roof. Many businesses prefer to install flat roofs due to the reduced cost. Not all roofing contractors know how to work with flat roofing, but our roofing experts have extensive experience with flat roof installation.
Commercial Roofing Repair
Hail, snow, high winds, intense heat, freezing cold temperatures and more are all a part of the rough weather conditions we experience here in Central Illinois. That kind of severe weather takes a toll on your commercial roofing. If severe weather blows off your shingles, creates a leak in your roof, or causes other roofing problems, rely on Popejoy Roofing for commercial roofing repair. We can respond quickly to inspect your roof and provide you with options for the best course of action. Our contractors also can provide emergency response to tarp or patch roofing to protect your building until permanent solutions can get installed.
Commercial Roof Maintenance
Popejoy Roofing contractors also provide seasonal maintenance services for commercial roofing, including gutter cleaning services. Annual inspections and seasonal maintenance can help your business extend the life of its commercial roofing for many years. You can experience quite the savings by maintaining your roofing materials. Contact Popejoy Roofing to learn more about our commercial roofing maintenance programs.
Why You Might Need New Commercial Roofing Solutions
Your business relies on an attractive and inviting appearance to maintain excellent relationships with customers. An unattractive roof can cause problems with client retention and speed up deterioration of the rest of your commercial property. Here are some signs you may need replacement commercial roofing products:
Your roof is more than 25 years old.
Shingles are blistered, cracked, or discolored.
The roof has become soft or uneven in areas, providing evidence that you have water damage.
Sections of shingles are missing from your roof.
You notice water spots on your ceilings or water damage on ceilings, flooring, or walls.
Mold problems develop on the surface of your roof or inside your property.
Your building starts to take on a musty smell, providing evidence you have a mold issue.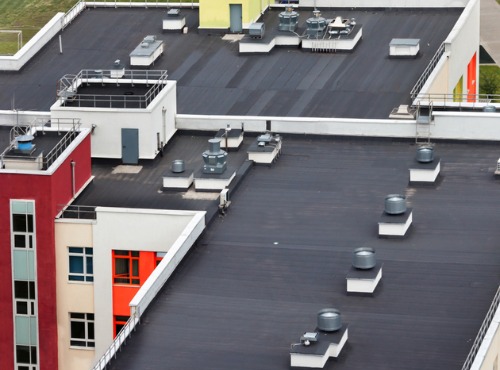 Contact Us for Commercial Roofing
Popejoy Roofing can provide you with a written job proposal within 1 to 2 business days of your quote request for commercial roofing. We will include all the information you need on proposed work, pricing, payment policies, warranty information, and clean-up responsibilities. Send us an email to request your free commercial roofing estimate today!