Emergency Repair for Commercial Roofing in Gibson City IL
High winds, hail, or a leaky roof do not need a long time to cause costly damage to your commercial roofing in Gibson City IL. So, call Popejoy Roofing contractors right away at 217-600-2464 to get emergency repair service. Our roofing experts respond quickly to provide repairs that can protect your building from water damage.
Torrential rains, ice storms, or large snow accumulations can cause unexpected damage to your commercial roofing in Gibson City IL. Our company realizes that when you need emergency roofing repairs or a replacement roof it cannot wait for regular business hours. Therefore, you should make a call to Popejoy Roofing. Our insured, bonded, and licensed roofing experts can quickly diagnose the damage. Then, they will make recommendations as to best course of action to repair your roof. For that and many other reasons, our customers remain highly satisfied and give us 5-star reviews.
Contact us whenever you need emergency service on commercial roofing in Gibson City IL. We stay at the ready to provide you with some of the best roofing products and services in Central Illinois.
Common Problems with Commercial Roofing in Gibson City IL
We are a local, family-owned business in Central Illinois. So, we understand how busy you are managing your own business. Therefore, we know it is not always easy to recognize when you need service for your commercial roofing in Gibson City IL. If you have any concerns, contact Popejoy Roofing to get a free inspection. We can make recommendations on how to handle any issues with your roofing. So, call us if you notice any of the problems below.
Cracked Shingles
Heavy rainfalls and triple-digit heat in the summer dish out a lot of punishment to your roofing materials. Consequently, your shingles or materials on
flat roofs can wear out, crack, and erode. Our roofing contractors can inspect your roof for free. Then, we will offer you a free estimate on the materials and services it will take to repair or replace your roof.
Water Ponding on Your Roof
Flat roofs are common forms of commercial roofing. Unfortunately, buildings with flat roofs or roofs with little to no slope can get large accumulations of water on the roof. When that happens, the water will erode your roofing materials and any wood underneath the roof. Then, water will seep into your building and cause damage to ceilings and walls. If you notice water pooling on your roof, call Popejoy Roofing to inspect the issue. We can fix the problem to provide proper drainage of the water on your roof.
Damage to Flashing
Flashing protects areas vulnerable to water damage on your commercial roofing. These thin pieces of galvanized steel or aluminum cover areas around vents, chimneys, and skylights. High winds or severe storms can bend, warp, or pull flashing away from your roof. When that occurs, water can get into those areas and leak into the interior of your building. However, Popejoy Roofing flashing repair services can quickly and affordably address the problem.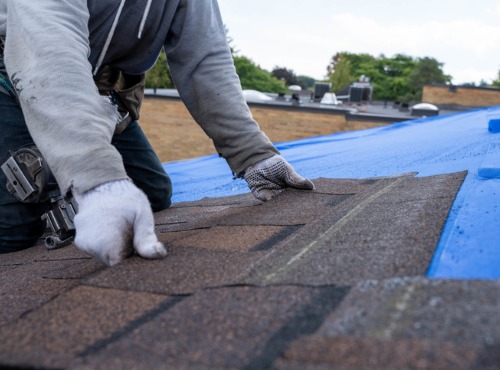 Fast Estimates for Commercial Roofing in Gibson City IL
Popejoy Roofing responds within 1 to 2 business days to all requests for estimates on commercial roofing. Our company is a Malarkey premium partner so we only provide the best shingles from Vista, Highlander, and Legacy. These products come with warranties for up to 30 years. So, call now at
217-600-2464 or contact us online to get a free quote for the roofing services and products you need.