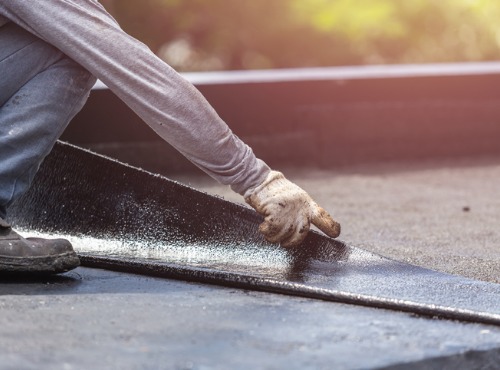 We Repair and Replace Flat Roofs in Champaign IL
Count on the trusted local experts at Popejoy Roofing to make it easy, affordable, and painless to repair or replace flat roofs in Champaign IL. Call us today at 309-530-4204 to get a free estimate on your roofing job.
You get licensed, bonded, and insured professional roofers with more than 25 years of experience when you hire Popejoy Roofing. That means our staff gets certification to handle both residential and commercial roof repair or replacement.
It also means our company carries its own insurance so none of our clients need to worry about being liable for any job-related accidents. Plus, our owner John Popejoy personally supervises all projects to ensure each roof we work on gets done in a timely and accurate fashion.
Check Out Our Reviews or Get a Free Estimate
Our clients love that we provide free estimates within one to two working days of a request and we offer a 10-year workmanship warranty. We repair and replace roofs on both residential and commercial buildings with popular products from Vista, Highlander, and Legacy shingles. Contact us today to get a free estimate for your roof. We also invite you to read our client reviews to feel assured about working with our company.
Common Problems with Flat Roofs in Champaign IL
Be careful to observe the warning signs that you need repair or replacement on your roof. Make sure to call Popejoy Roofing for an estimate if you see any of the following problems.
Alligator Skin
A sure sign that flat roofs in Champaign IL require replacement products is an issue called "alligatoring." That means your roof has aged to the point that the asphalt used to build it lost its elasticity. That causes your roofing materials to crack, bubble, and resemble the skin of an alligator.
Moisture Accumulation and Leaks
This is the most common issue for flat roofs in Champaign IL. Leaks and moisture accumulation can lead to mold, fungus, and algae growth on your roofing materials. Make sure to conduct seasonal maintenance and cleanings of your roof to avoid these issues.
Buckling Membranes
Most flat roofs in Champaign IL are built using a membrane soaked in asphalt. Unlike shingled roofs, the membrane on a flat roof consists of one, large piece. Over time, the membrane will move and shift with your house as it settles. This causes buckling that compromises your roof and endangers your safety. Call Popejoy Roofing for a replacement if you observe buckling on your roof.
Flashing Damage
Asphalt roofs expand and contract over time with the changing temperatures and weather of different seasons. Eventually, this continual process of expansion and contraction can pull the flashing from the corners and edges of your roof.
That problem compounds by creating leaks and trapping moisture in your roof. Seasonal maintenance of your roof can help you avoid this issue. However, you will need a roof replacement without it.
Contact Us to Repair or Replace Flat Roofs in Champaign IL
Take the hassle out of repairing or replacing flat roofs in Champaign IL. Contact Popejoy Roofing today at 309-530-4204 to get a free estimate on your roofing job. Also, you can contact us online to request a free estimate. Our experts can help when you need a roof repair or replacement and other services like flashing repair, chimney flashing and repair, attic ventilation systems, gutter cleaning.