Contractor Near Me for Flat Roofs in Pontiac IL
Popejoy Roofing contractors specialize in the installation or repair of commercial flat roofs in Pontiac IL. Not all contractors contain the experience or skills it takes when it comes to working on flat roofs. They present different challenges than conventional, pitched roofs. However, you get flat roof experts with our company. Also, you always get licensed, bonded, and insured contractors who are qualified to work on flat roofs.
In fact, we trust the quality of our work so much that we will back it for up to 10 years. That's right! We provide a 10-year warranty on all our workmanship. Therefore, we will repair any problems caused by our labor for free during that time. Consequently, you can feel confident in your roofing solutions when you choose our company.
Use our online form to request a free proposal now. We will respond within 1 to 2 business days. Plus, we include all the details you want to know including project price, payment policies, applicable warranty information, and cleanup responsibility. Our services draw rave reviews from our customers. When it comes to roofing, we have you covered.
The Benefits of Flat Roofs in Pontiac IL
Compared to pitched roofs, you can experience quite a bit of savings when you install buildings with flat roofs in Pontiac IL. In most cases, you can include an extra floor in your building for storage or other purposes in buildings with flat roofs. Plus, you also can conserve space around your building by installing heat pumps, air conditioners, and other equipment on the roofs. Buildings with flat roofs also simplify installation and maintenance of gutters and other building materials.
When Do I Need Roof Replacement?
You may not know how to spot warning signs for damage on flat roofs in Pontiac IL. Please continue read to learn more about warning signs that you need replacement materials.
Standing Water Discolors Roofing Materials – Flat roofs do not drain water as well as pitched roof. Therefore, water can collect and build large pools on your roof. Without routine maintenance, the water exposure can cause the growth of mold or algae that discolors materials. Under these conditions, the roof membrane can get compromised. This can lead to water leaks into the interior of your building. When that happens, exposure to water can damage ceilings, walls, and flooring materials.
Damage to the Roof Membrane – With age, the sun's rays will cause roofing materials to decay on flat roofs in Pontiac IL. Rips can develop in the roof membrane that can expose the interior of the building to water damage, potential mold problems, and a loss of energy efficiency.
Loose Flashing – Flashing protects the vulnerable seams on flat roofs in Pontiac IL. Generally, they do an effective job. However, your roof is susceptible to leakage around the seams if the flashing becomes dislodged, warped, or separate from the roof. Fixing and reinforcing any damaged flashing can protect your seams and prevent leaks.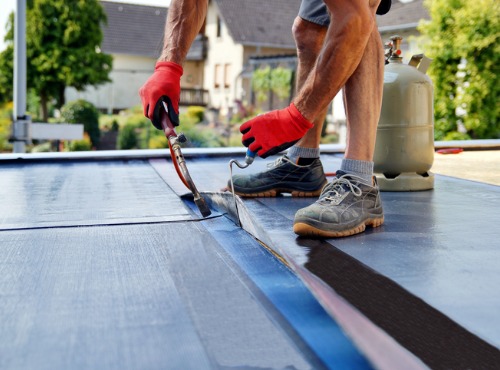 Contact Us for Flat Roofs in Pontiac IL
With more than 25 years of experience, Popejoy Roofing contractors are some of the most trusted around when it comes to flat roofs. Give us a call today at 217-600-2464 to request a project proposal. For more information about us or our services, you can also contact us online. In addition to flat roofs, we also provide services such as flashing repair, attic ventilation systems, gutter cleaning.