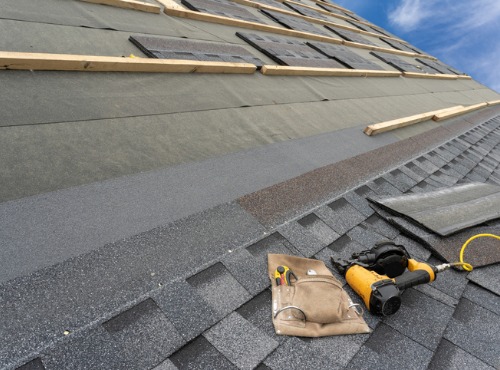 What Separates Good and Bad Commercial Roofers in Gibson City IL?
You know it is important to make the right choice when it comes to picking between commercial roofers in Gibson City IL. So, what exactly separates the good roofing contractors from the bad ones? If you have never had to hire a roofing contractor, this sort of question can keep you up at night. After all, roof repair and roof replacement products and services do not come cheap. You do not want to make a costly mistake by picking the wrong commercial roofers for your project.
Popejoy Roofing wants to help you understand the differences between reliable and unreliable roofers. So, we have compiled a list of things to check before picking a roofing company for your project.
Trustworthy roofing contractors use only licensed, bonded, and insured labor.
They install only the best quality products.
Most importantly, they pick up the phone when you call to provide the answers that you need.
They do not charge you for estimates or pressure you into signing a contract right away.
With our company, you always receive licensed contractors, the best products, prompt answers, and free quotes.
Good Companies Show You Their Credentials
Reliable roofing companies will not hesitate to show you whether they are licensed, bonded, and insured to perform work. Therefore, you should be weary if a roofing company will not provide you with that information. If you are looking for reputable commercial roofers in Gibson City IL, check out company websites. Dependable contractors will have an easy-to-find website with information about their credentials and warranties in writing.
For that reason, Popejoy Roofing lists detailed information about our company on our website. We believe in being honest and upfront with our clients. In fact, we even post customer reviews to help your research when you are shopping for services.
Reliable Contractors Provide the Best Roofing Materials
The quality of materials being provided represents another difference between good and bad commercial roofers in Gibson City IL. Make sure to ask about the shingles and other roofing products being provided by roofers. Look for contractors who offer you products that come with clearly stated warranties. That way, you can feel confident that you maximize your investment by getting the best-performing roofing solutions for your property.
Popejoy Roofing is a premium Malarkey partner. That means that we offer you only the finest quality products like Vista, Highlander, and Legacy shingles. These products come with up to 30 years of warranty protection. In addition, we also specialize in solutions for flat roofs. Unlike some roofers, we have extensive experience with flat roof products and services. So, we can make sure your roofing materials get installed correctly.
Dependable Roofers Communicate Well
The last thing you need when you are shopping for roofing products and services is unresponsive commercial roofers in Gibson City IL. You do not have time to make a bunch of unanswered phone calls to roofing companies that never call you back when you want an estimate. So, avoid working with a contractor if they never respond to your requests or provide you with straight answers. You need to know how long the project will take and how much it costs.
For that reason, Popejoy Roofing pledges to respond quickly when you contact us for information. If you request a free quote from us, we will get back to you within 1 to 2 business days. That way, you can make an informed decision quickly and easily. Our company contains more than 25 years of roofing experience. So, feel free to ask us any questions you may have about your roofing project. We will get back to you quickly with straight answers.
Contact Our Commercial Roofers in Gibson City IL
Give Popejoy Roofing a call if you are searching for the right commercial roofers in Gibson City IL. Our company uses only qualified and licensed roofers. We react quickly to answer questions you may have. Plus, we offer you some of the best roofing products in the industry. In addition, we guarantee our labor with a 10-year workmanship warranty. So, we will fix any issues caused by our labor for free. So, request your free quote today by calling 217-600-2464 or by using our online contact form.