What Questions Should I Ask Roofers in Gibson City IL?
Popejoy Roofing understands that you may not always know the right questions to ask roofers in Gibson City IL. After all, you know your roof is important. So, you want to make sure you are getting quality roofing materials from qualified roofing contractors. The last thing you want when you invest in a roof repair or roof replacement is problems from subpar shingles or poor workmanship.
We know that you want to feel confident when you hire a commercial or residential roofing contractor. So, we only use licensed, bonded, and insured laborers to work on your roof. Plus, we provide only the finest quality roofing materials from Vista, Highlander, and Legacy. Thus, you get products that come with up to 30 years of warranties. In addition, we guarantee our workmanship for 10 years. So, we will fix any issues caused by our labor for free.
However, not all contractors are honest and upfront about policies and pricing like us. So, we created this helpful list of questions for you to ask roofers in Gibson City IL. Also, make sure to contact us for a quote.
Questions About the Background of the Roofing Business
It should not take a long time or repeated phone calls to get answers to your questions if you are dealing with reputable roofers in Gibson City IL. In fact, most reputable roofers have quality websites these days. Reputable roofers have websites that answer most of the questions on this list. Be cautious about roofers operating without a dedicated website that makes it easy to get answers and contact them. Do not work with any roofers who are unwilling to answer the following questions:
How long has your company been in business?
Does your company have a local office?
How many of your laborers are actual employees?
Do you use subcontractors?
Will you provide me with a free quote?
Are you going to require me to sign a contract the same day you inspect my roof?
What brands and types of shingles do you provide?
Do you offer a workmanship warranty?
Does your company post any customer reviews?
Are your contractors licensed, bonded, and insured?
You should only work with roofers who answer these questions in a way that makes you feel comfortable working with them. For that reason, Popejoy Roofing makes it fast and easy to get answers to your questions. Plus, we respond within 1 to 2 business days to all requests for quotes.
Questions About the Roofing Process
You want to know how long it will take and how much you must spend to get the roofing products and services you need. Therefore, you should take the time to get answers to those questions from roofers in Gibson City IL. Here are some of the best questions to ask:
What does your roof inspection process involve?
How long will I have to wait for you to inspect my roof, provide me with a quote, and wait for work to begin?
Is there a deadline on the amount of time to accept your quote?
Who will supervise the work to make sure it gets done properly?
What damage requires repairs or total replacement?
How much will it cost if I need a new roof?
Who can I contact while working is being done for updates?
What do you do to protect my home and landscaping from damage?
How will bad weather affect the timeline of the project?
Who is responsible for cleaning up after work gets completed?
Trust only roofers in Gibson City IL who will answer these questions to your satisfaction. Popejoy Roofing contractors are happy to provide answers to these questions for you. Give us a call at 217-600-2464 for more information.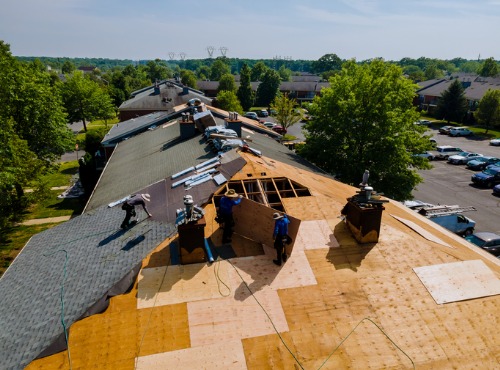 Contact Our Roofers in Gibson City IL
Popejoy Roofing knows you want to feel good about the products and services you buy from roofers in Gibson City IL. For that reason, we are always honest, open, and respond quickly when you need answers to important questions about roofing. We specialize in the maintenance, repair, and installation of both commercial and residential roofing.
Unlike some other roofers, we also have extensive experience with commercial flat roofs. Plus, we offer other specialty services such as attic ventilation systems, gutter cleaning. Fill out our online contact form today or call now at 217-600-2464 to request a free estimate.