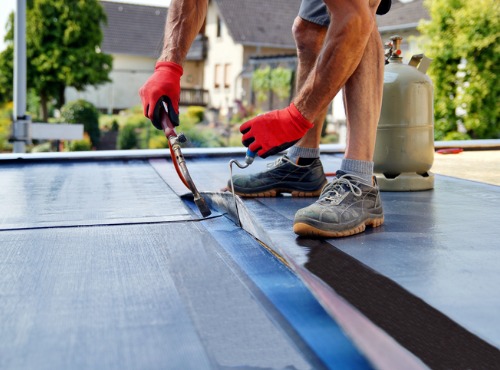 Best Contractor for Flat Roofs in Dewitt County IL
If you need installation or repair of flat roofs in Dewitt County IL, it is important to hire a contractor with flat roof experience. Most general roofing contractors lack expertise when it comes to flat roofing. After all, flat roofs require different skills than pitched roofing. Our experience with flat roofs in Dewitt County IL is what makes Popejoy Roofing one of the best contractors for your job. Our licensed, bonded, and insured roofers work on flat roofs all the time. Plus, our company has access to manufacturers with superior flat roofing materials.
As a matter of fact, Popejoy Roofing uses 25 years of industry experience to provide you with best services for commercial or residential roofing. Our owner oversees all work done to make sure you receive the best workmanship. For that reason, we promise to fix any issues with workmanship free of charge. That commitment to customer satisfaction has helped us gain referrals and great reviews from our customers. For a free estimate, call 217-600-2464 or use our online form. We will respond with a quote within one to two business days.
The Advantages of Flat Roofs in Dewitt County IL
For new commercial construction projects, you can save money with the installation of flat roofs in Dewitt County IL. These roofs cost much less to build than pitched roofing. Also, you can make your building with an extra floor that can come in handy for storage or other purposes. In addition, you can easily install air conditioning units and heat pumps on flat roofs. Plus, this will also simplify installation and maintenance of gutters and other building materials. If you need a replacement flat roof or a new one for your commercial structure, rely on Popejoy Roofing. We have you covered when it comes to flat roofs in Dewitt County IL.
Signs You Need to Replace Materials on Flat Roofs
Without regular maintenance, problems can arise on a flat roof that will require a total replacement of the materials. Some of the most common signs that you need to replace your roof include:
The Growth of Mold or Algae – Since flat roofs do not drain water like pitched roofs, it is not uncommon for a buildup of moisture on your roof that creates mold or algae. Without periodic inspections, this can create extensive damage of the roof membrane. In addition, it can lead to water leaks into the interior of your building. Water can seep into damaged roofing around vents, HVAC units, chimneys, or flashing.
Cracked or Blistered Roofing Materials – Long-term exposure to the sun's UV rays can cause materials to dry up, bubble up, or blister on old flat roofs in Dewitt County IL. This type of damage resembles alligator skin. The damaged roofing can crack and create holes that will let water seep into the building. In addition, it will harm the energy efficiency of the structure by letting more hot and cold air inside.
Damage to the Roof Membrane – As your building settles, it can cause the membrane to move and warp on older flat roofs in Dewitt County IL. In addition, severe weather can cause rips or tears. As a result, the protective seal keeping water out of your building gets punctured. This will also lead to harmful water leaks, less energy efficiency, and potential infestations of pests.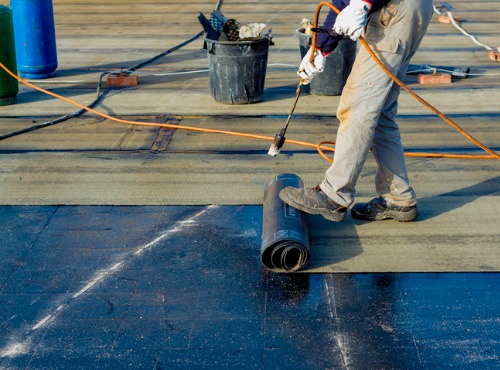 Free Estimates for Installation or Repair of Flat Roofs
Popejoy Roofing will not charge a dime to provide you with a free quote if you need services for flat roofs. Send us an email or give us a call at 217-600-2464 to receive your free estimate. We will get back to you with a detailed proposal within 24 to 48 hours. Our company welcomes the opportunity to provide you with some of the best services in the roofing industry!