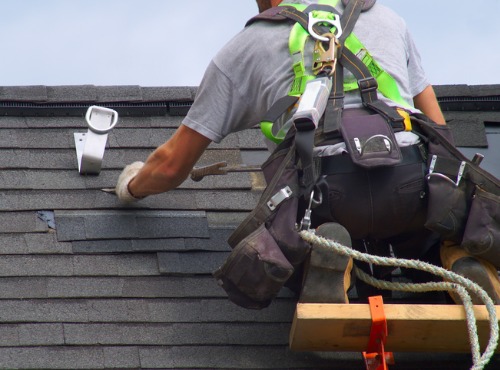 Focused on Roof Repair for Clinton IL
Rain, snow, hail, ice and any other weather scenarios; none can penetrate the fortitude of a Popejoy Roof. However, any roof getting on in years or having seen its fair share of seasons may begin to wither and deteriorate. And, the more shingles break down, the more chances you have of water escaping into your home. Thankfully, there's hope for your roof yet! Popejoy Roofing not only installs your roofing, but we can offer affordable and convenient roof repair for Clinton IL and the surrounding areas.
John Popejoy established Popejoy Roofing in 2016 after several successful years as a partner of Corn Belt Roofing. Through this partnership, John honed his skill and decided what he wanted for his own company. Thus, Popejoy Roofing puts our customers at the center of everything we do. With incredible warranties, the highest quality roofers, no-pressure quotes and affordable pricing, we strive to offer the best local roofing services.
Leave Roof Repair to the Experts
Whether you believe you can fix your roof by yourself, you ought to leave the repair up to the experts. Roof repair can be dangerous, and if not done right, it could cost you more in the long run.
Safety

Of all the safest places to be, on top of your house ranks pretty low on that list. In fact, for someone who doesn't spend a lot of time on roofs, you risk falling off and harming yourself. Even the most experienced contractors have fallen off of roofs before. However, the difference is a contractor will have experience and safety measures in place when going up on your roof. To ensure your health and safety, allow a roofing company to handle your repair.

Performance

Do you know what to look for when determining roof damage? Have you ever pulled up and replaced shingles before? Can you identify signs of water damage? If you must answer no to any of these questions, you may not be the best person to repair your roof. A professional roofer will know what to do and look for with your roof. Furthermore, they will ensure the job is done right the first time.

Convenience

As a homeowner, potentially with a family living under your roof, your life must be quite busy. And, in such a busy life, do you have the time to fit in roof repair? Truthfully, if you are trying to learn roof repair on the fly, it's going to take more than an afternoon to complete. And, in the case of a roof, you don't want to leave your home exposed for an extended period. However, with roofing contractors, we can perform fast and efficient roof repair and take the burden off your shoulders.
Count On Popejoy
Alongside roof repair for Clinton IL, Popejoy roofing can perform various other roofing and renovation services. Additionally, we offer warranties for our shingles and work (other than repair), so you can have confidence in your service. Some of what we do includes:
Give Us a Call
Don't take on roof repair in Clinton IL alone. Instead, give the experts at Popejoy Roofing a call today. You can contact us at 309-530-4204 to request a free quote. Also, you can email us at popejoyroofing@gmail.com.