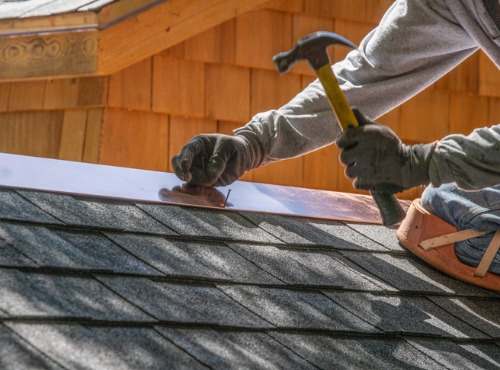 Exceptional Roof Repair in Champaign IL
Is your roof in a state of disrepair? Do you keep losing shingles? Is your roof leaking, but you can't figure out where from? You need the experienced, licensed and insured roofing contractors at Popejoy Roofing to diagnose your problem and make the fix. Roof repair is one of our primary services here at our family-owned roofing company serving all of Central Illinois. We specialize in both residential to commercial roofing work, handling all types of repairs from leaks to storm damage. We offer exceptional roof repair in Champaign IL.
Types of repairs we handle include:
Why Choose Us For Roof Repairs?
Let us count the ways. Popejoy Roofing:
Offers several flexible financing plans.
Uses the highest quality building products by trusted manufacturers.
Offers a 10-year Workmanship Warranty.
Is licensed, bonded and insured for both residential and commercial roofing.
Gives free estimates within one to two working days of your request.
Has more than 25 years of combined experience in both commercial and residential roofing.
Gives you a proposal outlining the details of the project, price, payment policies, warranty information and responsibility for cleanup.
Signs You Need Roof Repair
Here are some common signs that you require roof repair:
Shingles that are curled, cracked, or missing: These are signals that your shingles are nearing the end of their lifespan.
Shingles that are dark, dirty, or wet: When shingles are allowed to accumulate moisture, they are no longer doing their job.
Shingle granules in gutters: Composite or asphalt shingles tend to shed their granules when they begin to wear out, which then find their way into your gutters. They resemble coarse, black sand.
Wear and tear around roof objects and openings: Chimneys, vents, pipes, and other objects that penetrate your roof are ripe for deterioration.
Blistering or peeling exterior paint: When an attic is poorly ventilated, moisture or increased humidity can build up at the roofline, which causes the paint to peel or blister.
Staining on interior ceilings or walls: Your roof's underlayment could be allowing moisture into your home, leading to stains.
Leaks in the attic after a rainstorm: If rain gets into your attic, you may need flashing replacement, or you could need roof replacement if the cause is a porous underlayment.
Sagging roof deck: If you see that the decking or rafters in your attic are sagging downward instead of staying straight, they may be saturated with water.
Outside light in your attic: If you see streams of light coming into your attic during the day, water is invading through those same openings.
Higher energy bills: If you suddenly see an increase in your air conditioning or heating costs, air could be leaking out through your roof.
Contact Popejoy Roofing
If you need roof repair in Champaign IL, please contact us at 309-530-4204 to request a free quote and inspection. Also, you can send any inquiries to P.O. Box 41 Farmer City, IL 61842.