Residential Roofing for Champaign IL When You Need It
Whether from a big storm, fallen debris or years of exposure, the elements will eventually get the best of your roof. And while it can't always be helped when you need to repair or replace your roof, you can at least know there's always help when the time comes. Residential roofing in Champaign IL is what Popejoy Roofing does best! So, when you need work done for your roof, you can count on the expert service we provide.
Popejoy Roofing is a family-owned business focused on pleasing our customers. Our goal is to ensure your satisfaction through excellent roofing products, skilled contractors and great deals and warrantees. John Popejoy, the founder of Popejoy Roofing, established his reputation as a partner of Corn Belt Roofing, LLC, for many years prior. Using his knowledge and experience, he brought his vision of a better roofing company to fruition and now serves clients throughout Champaign and the surrounding communities.
What Are Your Roofing Options?
Without knowing much about your roof, you might think the only option is asphalt shingles. And while asphalt is the primary material for most residential roofing, other options may better suit your style and needs.
Asphalt

As mentioned previously, asphalt shingles are one of the most common options for residential roofing. This is due to their flexible style and relative affordability. However, there are more costs when considering the repair and maintenance of an asphalt shingle roof throughout its lifetime.

Wood

Some homeowners choose wood shingles and shakes for their rustic beauty. Moreover, wood roofing can offer a longer lifespan than asphalt and other roofing materials. But, a wood roof will require more upkeep than other types of roofing.

Metal

With metal roofing, you get a sturdy and eco-friendly roof option. Metal roofing is more common for commercial construction but has become a popular choice for residential roofing. Though, keep in mind that metal roofing is more expensive and can be costly to replace in the event of an accident.

Slate

A slate roof is a highly desirable roof material in both function and style. With incredible resistance to the elements and a unique appearance sure to increase your curbside appeal, it's hard to go wrong with slate. The only thing that prevents most people from opting for this superior material option is the price compared to other roofing types.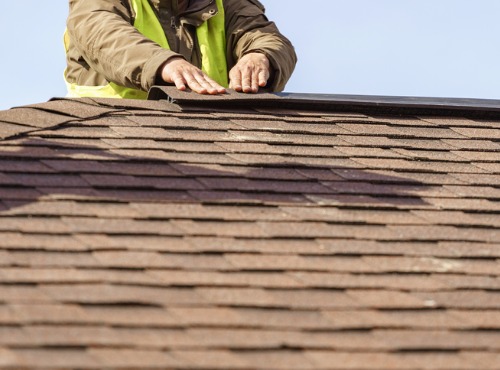 What Are Our Roofing Services?
Now that you're more familiar with the types of residential roofing for Champaign IL, Popejoy Roofing can familiarize you with the numerous services we offer. Most of the work we do involves roofing, with some additional exterior renovation jobs. For example, we provide:
Call Our Office
Residential roofing for Champaign IL is made easy with the skill and expertise Popejoy Roofing can provide. If you'd like to learn more about what we offer, call us today at 309-530-4204 for a free quote. Also, you can contact us online at popejoyroofing@gmail.com.