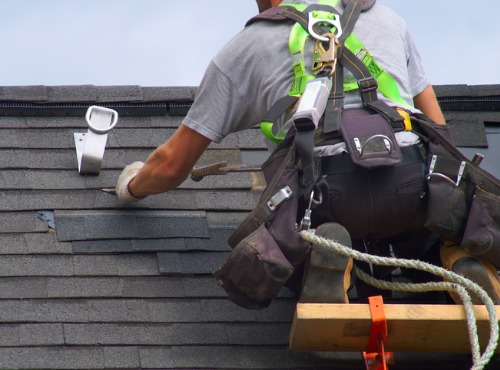 Top Contractors for Roof Damage in Champaign IL
Popejoy Roofing contractors are the best-reviewed local professionals to repair residential and commercial roof damage in Champaign IL. Call us today at 217-600-2464 for a free estimate on roof repair or replacement.
Whether your roof has deteriorated over time or suffered from a recent storm, you need fast and reliable pros to fix roof damage. For that reason, Popejoy Roofing will act fast when you ask for a quote from us. Often, we provide you with the answers you need within 24 hours. In fact, we create full job proposals which outline all aspects of the job. So, you won't have any uncertainty with us when it comes to pricing, payment policies, work timelines, warranty information, or responsibilities for cleaning up. Roofing is important work, and we take protecting you and your property seriously. That's why Champaign County homeowners and businesses call us when they sustain roof damage in Champaign IL.
We are a Malarkey partner. So, we offer the best-performing replacement products in the industry from Vista, Highlander, and Legacy. Plus, these shingles come with warranties for 30 years! Contact us now for a free quote.
Why Hire Us to Fix Roof Damage in Champaign IL?
Often, storm-chasing roofers come around and solicit door-to-door in your neighborhood. Usually, they offer to look at your roof for free. Then, they climb down from your roof and tell you it's in bad shape, whether it is or not. Finally, they use high-pressure sales tactics to get you to sign a contract with them on the spot. The problem with these contractors is that they often perform shoddy work, leave town with your money, and are nowhere to be found when you have a problem. Here's how Popejoy Roofing is different from those guys:
We use only licensed, bonded, and insured roofing contractors.
Our team provides you with an honest appraisal on the state of your roofing. We can prepare a full job proposal in writing for you to review.
We don't pressure you into signing any contracts when we first meet with you.
All our workmanship is backed with a 10-year labor warranty. Thus, we will fix any of our labor mistakes free of charge.
Our roots in the community go back for decades. Plus, our company has 25 years of experience at the local level. We take pride in serving our friends and neighbors in Champaign IL. So, we will always be there if you've got a problem or a question.
Other Services Available
If you need us to fix roof damage in Champaign IL, we can. However, we also provide other helpful property maintenance services to keep your roof and property in good condition. So, contact Popejoy Roofing for any of the following services:
Let Us Fix Your Roof Damage in Champaign IL
Popejoy Roofing contractors understand the importance of your roof and how it protects your home. So, we act quickly when you suffer roof damage in Champaign IL. We can respond within 24 to 48 hours with a solution for you. So, give us a call at 217-600-2464 or request a free estimate online now. When you need roof work, Popejoy Roofing has you covered!