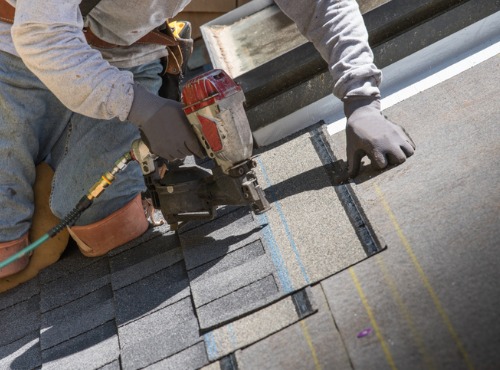 Licensed Professional Commercial Roofers in Champaign IL
Trust Popejoy Roofing when you need qualified local commercial roofers in Champaign IL. Call us today at 309-530-4204 for a free estimate on your roofing job.
Our customers love that we have proven experience when it comes to managing commercial roofing projects of all types. Whether it's new construction, repair, or maintenance, our licensed, bonded, and insured roofers can give you a thorough assessment of your needs and an honest quote. Also, we make you feel secure with our estimates because we put everything in writing. In fact, we include price, payment policies, warranty information, and responsibility for cleanup in easy-to-read terms before starting work.
Our owner John Popejoy oversees each of our job sites to ensure quality craftsmanship and complete customer satisfaction. All our contractors are licensed, professional commercial roofers in Champaign IL. That means they are certified and have expertise in best roofing practices. We also stand by what we do with a 10-year warranty on all our workmanship.
Contact us now to request a free quote for the roof work you need. Also, check out our reviews to see the great things customers are saying about our work.
Common Roof Problems that Require Commercial Roofers in Champaign IL
Watch out for any warning signs that you need roof maintenance, repair, or replacement. Contact Popejoy Roofing to get a free quote if you notice any of the following roof issues:
Standing Water
Leaves or other debris can blow on your roof and clog drains causing water to accumulate. This can deteriorate your roofing materials and cause leaks into the building. If not handled promptly, this type of problem can require the installation of a new roof.
Wind Blow-Offs
High winds can create suction pressure that causes weakened roofing materials to blow completely off your roof. This leaves parts of your roof exposed to the elements, weakens other roofing materials, and runs the risk of water leaks. Emergencies like this require immediate roof repair or damage can become so extensive it requires total roof replacement.
Flashing Damage
Flashing deflects water from seams and joints in your roof. If flashing gets damaged or installed improperly, it can create water leaks and the growth of mold and algae on your roof. This can also allow moisture to get trapped inside your roof and rot roofing materials at an accelerated rate. Count on Popejoy Roofing's flashing repair services with this sort of issue.
Expansion and Contraction Damage
Roofing materials, particularly metal components, go through states of expansion and contraction during hot and cold weather months. As the materials expand and contract, roof joints break and create holes and unprotected areas in your roof. Without seasonal maintenance or prompt repair, damage from expansion and contraction can require costly repairs or even total roof replacement.
Contact Our Commercial Roofers in Champaign IL
Popejoy Roofing makes it easy, affordable, and painless to maintain, repair, and replace commercial roofs in Champaign IL. Call us at 309-530-4204 to work with commercial roofers with more than 25 years of experience. You can also contact us online to request a free estimate. Our licensed roofers can also help when you need other services like chimney flashing and repair, attic ventilation systems, gutter cleaning.