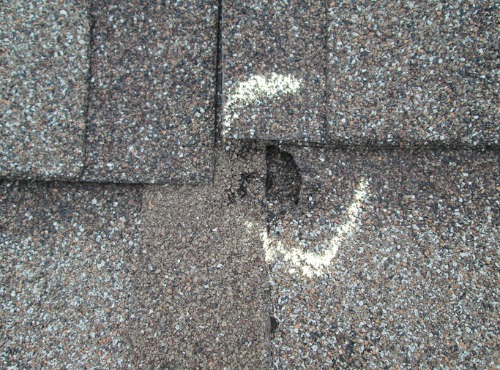 Hail Damage Roof Repair in Pontiac IL
If you have hail damage at your home or business, Popejoy Roofing provides fast and affordable roof repair in Pontiac IL. Call your trusted local roofing company now at 217-600-2464 for a free estimate.
Severe thunderstorms that hit your property with high winds or hail can cause a lot of visible damage to your roof. However, you may not always detect some of the damage by looking up at your roof from the ground. If you see damage to your cars, siding on your home, or notice roofing contractors repairing roofs in your neighborhood, you may need hail damage roof repair in Pontiac IL.
Hail damage frequently degrades the integrity of your roofing and shingles. In fact, the granule layers that make up shingles can suffer catastrophic damage from hail. Consequently, your roofing materials can break down faster due to less protection from the elements and UV rays from the sun. Let one of our roofing experts inspect your roof after a storm.
Contact us now to receive a free inspection. We can work with your insurance company to take any hassles out of getting roof repairs.
Signs You Need Roof Repair in Pontiac IL
The severe weather conditions we experience in Central Illinois can compromise your roofing materials. After all, winds in excess of 45 miles per hour can blow flashing, gutters, and shingles off your roof. Windstorms, heavy rainfall, and snowstorms can degrade roofing materials, cause water leaks, and create mold issues that pose a health hazard. Plus, below-zero winter temperatures and triple-digit summer heat can cause flashing to warp, dent, bend, and break. If that happens, water will seep inside your home or business and damage ceilings and walls.
Popejoy Roofing can handle any sort of roof repair in Pontiac IL. Contact us to have one of our licensed, bonded, and insured roofing experts inspect any damage. Do not hesitate to call if you notice any of the following common roofing problems below.
Bent Flashing
Areas on your roof like vents, skylights, and chimneys get protection from water with flashing. These thin pieces of galvanized steel or aluminum direct water away from these vulnerable parts of your roof. However, storms can bend, warp, or cause flashing to come away from roofing materials. Plus, severe hot or cold conditions cause flashing to shrink, expand, or pull away from your roof. Give Popejoy Roofing a call to take advantage of our flashing repair services, especially if you have chimney flashing damage.
Clogged Gutters
Windstorms can hurl leaves, debris, and other items at your roof at high speeds. As a result, these items can clog or damage your gutters. If you notice that your gutters are full of debris, contact Popejoy Roofing for our gutter cleaning services. Keeping your gutters clean will allow you to prevent the growth of mold or algae, water damage, and decay of your roofing materials.
Cracked Shingles
As time passes, UV rays from the sun can degrade the materials that comprise your shingles. With the sort of granular erosion that happens to shingles from the sun, your roof can start to get leaks or let in hot and cold air. When that occurs, the wood underneath your roof gets damaged, ceilings and walls can get damaged, and your home loses energy efficiency. All those problems will cost you big time in the form of purchasing replacement materials or paying big energy bills. So, give Popejoy Roofing a call if you notice that your shingles are cracking. We can keep your home safe from water damage and make it more energy efficient by replacing degraded roofing materials.
Contact Us for Roof Repair in Pontiac IL
If you want an estimate on roof repair in Pontiac IL, Popejoy Roofing will respond within 1 to 2 business days. So, just give us a call now at 217-600-2464 or contact us online. Remember, we are a Malarkey premium partner. Thus, we only provide the best products from top brands Vista, Highlander, and Legacy. These shingles come with warranties for up to 30 years. For the best roofing services and products, trust only Popejoy Roofing!