The Roof Repair Decatur IL Residents Rave About
A roof is more than just a decorative structure that covers the top of your home or commercial building. It offers shade when the sun shines and warmth when the temperatures drop. Roofs also act as a shield against exterior elements, protecting from unpleasant encounters with wind, rain and snow. That being said, there is a limit to what they can do. After several years of use, a roof will slowly stop providing the proper protection. When this happens, you can count on our roofing contractors to deliver fast roof repair for Decatur IL!
Reasons to Seek Repair
Aging isn't the only reason to seek roof repair. Other reasonable grounds to pursue roofing services are to protect against additional damage, to boost curb appeal and to lower energy expenses as follows:
To Protect Against Additional Damage – A couple of split or cracked shingles might not seem like a big deal. But the truth is, roofs that exhibit these qualities are more exposed to exterior elements. The longer you wait to seek roof repair, the higher the likelihood of additional damage.
To Boost Curb Appeal – Are you having a hard time selling your home? One thing that might help is repairing or replacing areas on your roof that look a little rough. Not only can doing so draw interested buyers your way, but it can also increase property value, helping your home sell at a higher price.
To Lower Energy Expenses – Unnaturally high heating or cooling costs are often indicative of holes that have appeared in a roof, drawing air in from the outside. Call on our contractors today, and we will quickly repair the area, bringing your expenses back under control.
What to Expect When Working with Popejoy
Whatever your reason for seeking roof repair for Decatur IL, you can trust the team at Popejoy Roofing to deliver quick and high-quality results. Since 2016, we've proudly offered our roof, gutter and deck services to commercial and residential clients in Central Illinois. Whether we are changing out old shingles or cleaning out an overflowing gutter, we treat each task as an opportunity to demonstrate our proficiency and skill.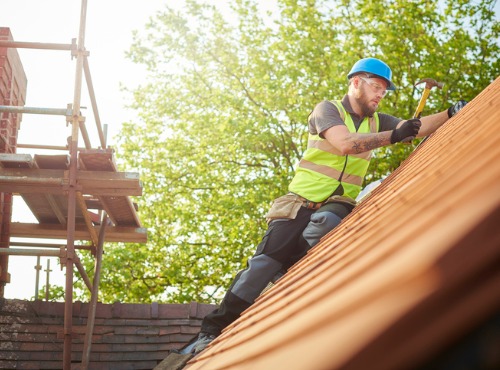 At Popejoy Roofing Inc., we also proudly stand by our many years of experience, confidently offering warranty options for your security. In addition to these advantages, we are licensed, bonded and insured. This means that we are not only competent in our line of work, but we are trusted enough for a bonding company to insure us up to a certain amount. Finally, when you work with us, we promise to be transparent about price, offering free and accurate estimates before starting each job. Contact us to receive yours today!
Schedule a Service
Is it time to seek roof repair for Decatur IL? Then get in touch with our contractors today! Call us at (309) 530-4204 or submit your information through our online form. If you prefer to email us, you can do that too! Shoot us a message at popejoyroofing@gmail.com.