If Facing Roof Hail Damage in Fairbury IL, Give Popejoy a Call
Age, improper installation and extreme temperatures can all affect the integrity and effectiveness of your roof. However, there's nothing more detrimental to your roof than severe winds, rain and hail. Especially in the case of hail, your roof can undergo a significant beating, placing your home at risk if the damage isn't resolved. Thus, if facing roof hail damage in Fairbury IL yourself, reach out to the experts at Popejoy Roofing.
Signs of Roof Hail Damage
Are you not sure what to look for when determining roof hail damage? That's not a problem for Popejoy! Our contractors can quickly identify potential roof damage and offer effective resolutions. However, if still looking for roof damage yourself, here are a few signs of hail damage to be aware of:
Dents & Dings – Depending on the size of hail, you could see your roofing's shingles become dented or "dinged-up." On average, hail with one inch or more diameter causes the most damage. Although, that doesn't mean your roof is safe from dents after a storm. Furthermore, while dents in your shingles aren't cause for immediate concern, they compromise the strength of shingles if additional damage occurs.
Broken Flashing & Vents – Shingles are the first part of the roof most people check when thinking about roof damage. However, there are other areas of your roof just as susceptible to hail: your flashing and ventilation. These roof components are typically made from malleable metal, making them easy to dent. Moreover, flashing and vents primarily cover holes and seams in your roof. Thus, if these parts become damaged, you risk water leaking into your home.
Missing & Broken Shingles – The most apparent signs of hail roof damage in Fairbury IL are if your shingles are broken or missing. A cracked shingle can occur after a single hail storm. However, after hail, broken shingles are more likely due to repeated damage or an aging roof. And if strong winds accompany a hail storm, shingles are just as likely to be blown off your roof. If left unchecked, cracked or, missing shingles can directly expose your roof to water damage.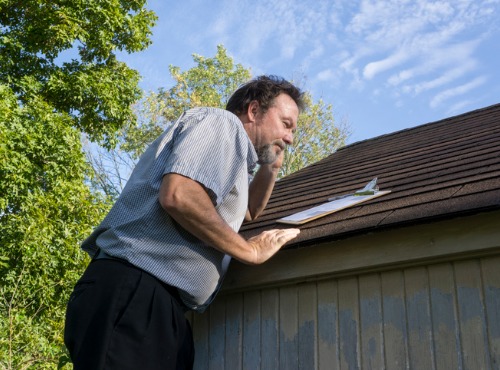 What We Do
If you suspect roof damage for your home or business, reach out to Popejoy Roofing right away. Our team will provide a thorough inspection of your roofing, singling out the areas most needing repair. If damage is not too extensive, all that might be necessary is the replacement of a few shingles or pieces of flashing. However, for more severe roof damage, we might recommend a complete replacement of your roof.
Talk with Our Team
Roof hail damage in Fairbury IL is a serious matter that should be addressed ASAP. Contact the roofing experts at Popejoy Roofing today if you suspect hail roof damage for your home or business. You can contact us at 309-530-4204 to request a quote. Also, you can reach us via email at popejoyroofing@gmail.com.