How to Pick Top Roofing Contractors in Fairbury IL
Popejoy Roofing can help your research by offering helpful suggestions on how to pick the best roofing contractors in Fairbury IL. To help with your decision, you can call us today at 309-220-5359 for a free estimate and full job proposal.
Whether you need roof repair or replacement, you want to choose roofing contractors you can trust. If you can get by with small bill for a minor patch job, you don't want to pay for a whole new roof. There are a lot of roofing contractors in Fairbury IL. So, how do you know which ones to trust? You know it could cost you a lot of money or time if you pick the wrong company. However, knowing the right roofer to hire for your home or business can get difficult and confusing quickly.
Popejoy Roofing knows you have an important to decision make. For that reason, we invite you to read list of helpful tips below to get the information you need to make an informed choice. In addition, we welcome you to contact us online for a no-obligation quote for what you need.
Beware of Prices Too Good to Be True
If you get several estimates and one comes in a lot cheaper than others, you may not want to work with those roofing contractors in Fairbury IL. Operators who provide cheap bids usually don't carry the proper insurance that protects in case of an accident. Reputable roofing companies get worker's compensation and liability insurance coverage. That way, the homeowner will not face liability if a worker gets injured on the job. Also, some fly-by-night operators provide cheap bids, perform shoddy work, and leave town with your money. So, they are long gone when your roof has issues with poor roofing materials or workmanship.
Steer Clear of Storm Chasing Crews
Reliable roofing companies don't go canvassing and selling their services door-to-door after a storm. These
sorts of roofers will tell you that your roof has storm damage whether it does or not. Plus, they will use high-pressure tactics like getting you to sign a letter of intent for work on the spot. Don't be pressured into paying for costly products and services you don't want. You never have to sign any paperwork on the spot for a roofing job. Make sure you get an estimate and full job proposal in writing you can review before picking roofing contractors in Fairbury IL.
Make Sure They Answer the Phone
When you need reliable roofing contractors in Fairbury IL, you need a company with good communication. Do they answer the phone when you have questions? Have they sent you the documentation that you requested in a timely manner? If they haven't, you need to communicate your concerns to your representative with the roofing company. So, you need to pick a different company if the one you have isn't following through with good communication.
Full-Service Roofing Contractors in Fairbury IL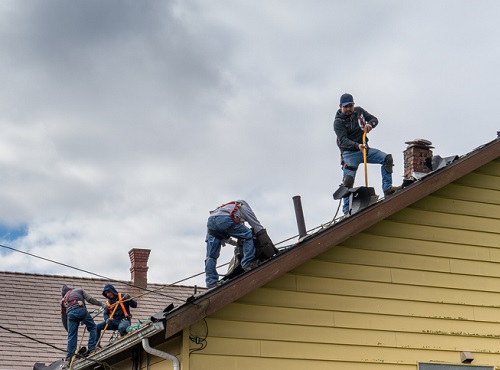 Popejoy Roofing provides roof repair and replacement for residential and commercial locations as full-service roofing contractors in Fairbury IL. We are fully licensed, bonded, and insured. So, we don't expose clients to any unnecessary liability. Plus, we don't believe in bothering you with door-to-door solicitation. After all, we get plenty of referrals from our 5-star client reviews. They enjoy that we follow through with good communication. We promptly provide estimates, written proposals, and warranty fulfillment when we say we will. So, give us a call for any of the following services:
Contact Trusted Local Roofing Contractors in Fairbury IL
Popejoy Roofing hopes this information helps you with your search for the right roofing contractors in Fairbury IL. Give us a call at 309-220-5359 or contact us online if you need a free estimate or job proposal from trusted local roofing experts. Find out why Livingston County homeowners and businesses prefer Popejoy Roofing for their roof and deck work. Our company puts 25 years of industry experience to work for you. When it comes to roofing, we have you covered.