Signs You Need Roof Installation in Fairbury IL
Popejoy Roofing is your trusted local source for roof installation in Fairbury IL. Give our licensed, bonded, and insured roofers a call today at 217-600-2464 for a roof you can count on.
A new roof represents one of the costliest and most important investments you will make for your home. Your roof protects your home from wind, rain, snow, and other damage from nature and severe weather. In addition, a new roof can improve your curb appeal, increase your home's value, and attract buyers.
Popejoy Roofing knows you need a roof you can trust, and we are the company you can count on to keep it that way for years to come. As a Malarkey Partner, we provide premium shingles from Vista, Highlander, and Legacy. Most shingles come with a 30-year manufacturer's warranty, and we also back our workmanship with a guarantee to fix any problems for free.
Contact us now to get a free estimate on roof installation in Fairbury IL. Our company puts more than 25 years of experience to use in providing quality residential and commercial roofing solutions. Please consider our services if your roof exhibits any of the conditions below.
1. Shingles Are Visibly Worn
If your existing shingles are missing granules, they can create an unappealing look as though your roof has bald spots. In this condition, shingles may function well enough to keep water out, but they will not reflect heat as well. As a result, your energy bill will rise because your air conditioner will need to work harder to cool your home in the summer.
2. Your Roofing Materials Are Cupping or Curling
When your shingles start to warp, you should consider roof installation in Fairbury IL. This condition means that water driven by wind during storms can get under your shingles. Consequently, these leaks will damage your roof deck, causing it to rot and expose the interior of your home to water damage.
3. Shingles Start to Crack
Roofing materials with cracks will not divert water as they should. As a result, water will seep down into your roof deck, causing it to decay. Eventually, this will expose the interior of your home to leaks and water damage.
4. Your Roof Allows Multiple Leaks
Roof damage that allows multiple leaks points to an emergency need for roof installation in Fairbury IL. Your roof contains multiple components, not just shingles. Deck paper/underlayment, flashing, ice, and moisture barrier in valleys, starter shingles, vent stack boots and other components are part of an entire roofing system. As the roof ages and several of its components or locations fail, the roof needs replacement products.
5. A Major Storm Compromises Most of Your Roof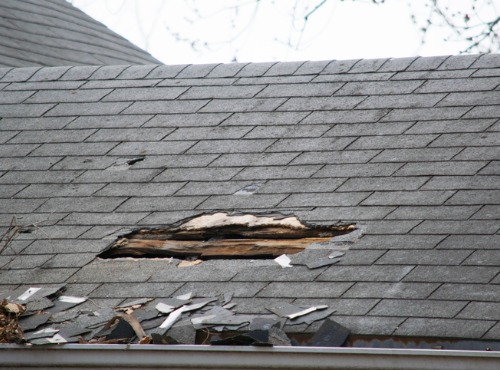 If more than about 35% of the roof is going to need a repair due to wind or hail damage, then it is more economical to perform roof installation in Fairbury IL. Repair brings a higher cost per square foot because it is more time-consuming to integrate new shingles into the existing roof than to install them over the entire roof. Plus, a mix of old and new will not look attractive.
Contact Us for Roof Installation in Fairbury IL
Popejoy Roofing can provide a quote within 1 to 2 business days when you need roof installation in Fairbury IL. Call us today at 217-600-2464 to request a free estimate. In addition, please refer to our website for helpful resources such as client reviews, more information about us, or access to a tool to design your own roof.