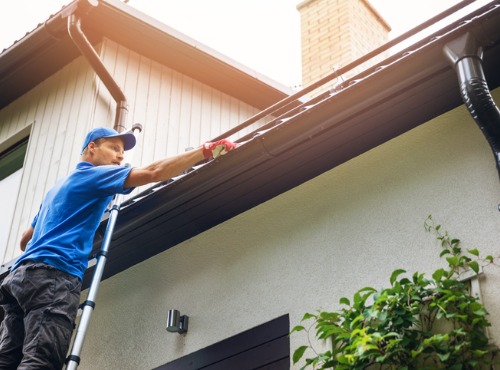 Why You Need Gutter Cleaning for Champaign IL
From your roof to your siding and every inch of your home's exterior, you want to ensure it stays in the best shape possible. After all, it's the only thing that stands between your family and severe weather or harsh temperatures. However, your gutters are just as integral to the upkeep of your home's exterior as everything else. And if you don't keep your gutters clear, you leave your home open to potential water damage. Thus, it's crucial to have gutter cleaning in Champaign IL. And if looking for professional help, you can rely on Popejoy Roofing, Inc.
Popejoy Roofing is all about caring for the roof of your home. We both install and repair residential and commercial roofing throughout Champaign, Urbana, Clinton and the surrounding areas. And your gutters are an essential part of your roof. Gutters do just as much work to protect your home as the shingles over your head do! And, if you want a professional cleaning job to ensure your gutters are in the best shape possible, you can count on our team of roof and gutter experts.
How Clogged Gutters are Harmful to Your Home
If you don't take the time to have someone else or yourself clear out your gutters, you're going to see the consequences in the long run. From having gutters pulling off your house to letting water leak into your home, there are several ways uncleaned gutters can be harmful to your property.
Water Damage

Perhaps the most crucial aspect your gutters protect you from is water damage to your home. Gutters might not seem like they do much, but the simple act of carrying water away from your house is enough to keep most water damage at bay. However, if your gutters become clogged, water can pool and begin to leak on your roof, down the side of your home and into your house's foundation.

Bugs, Mold & Bacteria

If pooling water persists during the warmer months of the year, your gutters can begin to attract unwanted guests. For example, more mosquitos may breed on your property with too much water pooling in your gutters. Also, standing water creates a scenario where mold and bacteria can grow. Worst case scenario, this mold growth can expand into your home, degrading your interior and causing sickness.

Freezing Temperatures

During the winter, clogged gutters are just as harmful. For water or melting snow with no place to go, drops in temperatures can cause it to freeze in your gutters. If significant enough, frozen water can place too much pressure on your gutters, causing downspouts to crack and fascia to pull away from your home. By winter's end, you might be paying more to replace your gutters than it would have cost to clean them.
Popejoy Roofing Offers More
Aside from Gutter Cleaning in Champaign IL, Popejoy Roofing provides various services, all related to maintaining your roof. We are roofing experts who are licensed, bonded and insured. Moreover, we offer incredible warranties on both our products and services, so you can be confident in the work we provide. For example, we offer:
Give Us a Call
To ensure your home stays protected, you need professional gutter cleaning in Champaign IL. It's time to call the team at Popejoy Roofing, Inc. You can contact us at 309-530-4204 to schedule a free quote. Also, you can email us at popejoyroofing@gmail.com.