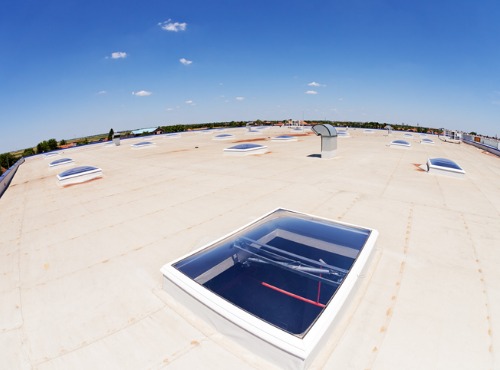 Find the Right Commercial Roof Contractor in Pontiac IL
Popejoy Roofing offers you premium roofing materials and quality workmanship from a top-rated commercial roof contractor in Pontiac IL. Not all roofing companies have contractors with the knowledge and experience it takes to repair or replace commercial roofing well. However, Popejoy Roofing specializes in commercial roofing services, including flat roofs. Our company believes we are the right contractors for your commercial roofing project because we offer the following benefits:
25 years of experience with commercial roofing
Our commercial roof contractors are licensed, bonded, and insured
30-year warranty on available shingles
10-year warranty on workmanship
Free Quotes within 24 to 48 hours of your request
Easy to follow written job proposals that accurately describe the project, the price, our payment policies, warranty information, and clean up procedures
We are here to provide you with the services you need from the most trusted commercial roofers in Pontiac IL and Livingston County. If you have concerns about your roof, contact us to schedule an inspection or request a free estimate.
Specialty Commercial Roof Contractor in Pontiac IL
Popejoy Roofing provides repair and replacement services for businesses that need a specialty commercial roof contractor in Pontiac IL. Due to the cost savings, many commercial properties opt to go with flat roofs. Buildings with flat roofs require different maintenance, repair, and replacement methods than ones with pitched roofs. Not all roof contractors have experience with flat roofs. It could cost you big time if your roof gets installed or repaired incorrectly. So, make sure to call Popejoy Roofing for contractors who have the experience to provide you with quality services for your specialty commercial roofing needs.
Signs You Need to Call a Commercial Roof Contractor
As roofing materials age, they take abuse from the sun, wind, rain, snow, and extreme temperatures. As a result, components such as shingles, flashing, gutters, and fascia wear out and degrade. When that happens, your building no longer gets properly protected from water damage and loses energy efficiency. This can lead to expensive property repair and utility bills. However, you can avoid that with help from a commercial roof contractor in Pontiac IL. Contact Popejoy Roofing for an inspection if you notice any of the following roof damage:
Cracked, buckled, curled, blistered, or bald shingles.
Shingles with black or green streaks that indicate the growth of mold or algae
Large pools of water forming for prolonged periods on your roof
Warped or bent metal strips of flashing
Missing sections of shingles or flashing around chimneys, vent pipes, dormers, skylights, or other roof features
Leaks causing water damage to ceilings, walls, or flooring inside your building
Missing, drooping, rusting, or leaking gutter sections
Rotting fascia boards
Contact Our Commercial Roof Contractors
Do not trust just any old roofing company to repair or replace materials at your business. Get quality services from Popejoy Roofing, the right commercial roof contractor in Pontiac IL. Our licensed commercial roofing specialists will provide you premium products and quality workmanship backed by warranties. Fill out our online form or call 309-220-5359 to request a free estimate today.