Dependable Roofing Companies for Urbana IL
Shingles are missing from your roof, and you've begun to see wet spots in your attic; what do you do? The obvious answer is to call professional roofers right away to resolve the issue. However, how do you pick from the roofing companies for Urbana IL? You want roofing contractors you can rely on to get the job done right. Furthermore, you want affordable roofers, with plenty of warranties and financing options. If this sounds like a company you can get behind, then Popejoy Roofing is the company for you!
Popejoy Roofing is a small, family-owned company that strives to be customer-centered. John Popejoy, the owner of Popejoy Roofing, is present for every job, ensuring everything is completed accurately and on time. As customers are at the center of everything we do, we offer some of the best warranties and payment options on all our products and services. You should never feel pressured by contractors over something you require to live comfortably.
Signs of a Failing Roof
Be on the lookout for signs your roof needs repair or replacement. And, when you're ready, you can count on the experts at Popejoy Roofing to be on the job right away.
Leaking and Water Spots

One of the strongest indicators of a leaky roof is the water damage that may have seeped into your home. Ideally, the damage stays confined to attic space, but a serious enough leak can sometimes reach your ceiling. This will become quickly apparent if you are finding dark spots on your ceiling.

Age

While roofing is meant to last a long time, it won't last forever. Especially if you are already purchasing an older house. It's essential to find out whether you're working with the original roof or one that was recently replaced. On average (with proper care and few accidents), an asphalt shingle roof can last up to 40 years maximum, depending on the manufacturer.

Noticeable Damage

Of course, determining whether you need roof repair or replacement can sometimes be as simple as looking at your roof. If you notice a significant amount of shingles cracked or missing, that's a big problem. Compromised shingles are a fast track for water to escape into your home. Or, if you notice dips or sagging in your roof, call a contractor ASAP. Water damage may have warped wood near the point of collapse.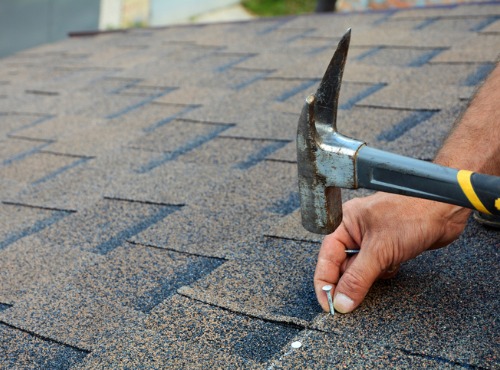 The Best Around
With expert contractors, fast service, excellent materials and affordable prices, it's hard to find roofing companies in Urbana IL better than Popejoy Roofing. We strive to offer services tailored to your roofing (and roofing adjacent) needs. For example, our services include:
Call Today
When faced with the difficult decision of which roofing companies in Urbana IL to choose, Popejoy Roofing is the right choice to make. Call us today at 309-530-4204 to request a free quote. Also, you can email us at popejoyroofing@gmail.com.