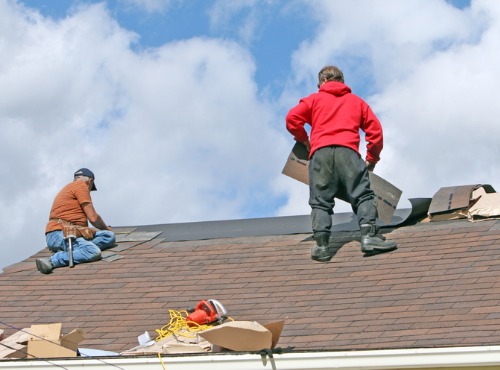 Offering the Roof Replacement in Urbana IL You Need
When it comes time to address issues your roof may be having, there are several options you have. The first is repairing your roof, in which specific areas are patched up, and small areas of shingles are replaced. However, if you feel your roof requires more than a repair, you might consider re-roofing. If it hasn't already been done to your roof, re-roofing places a fresh layer of shingles over your already existing one. But, both of these options are no longer viable if the damage to your roof is in more than the surface. In such scenarios, you can opt for a complete roof replacement in Urbana IL, courtesy of the folks at Popejoy Roofing.
At Popejoy Roofing, we rise to the challenge, no matter what your needs. From small repairs to complete roof installation, we will guide you towards the best option for protecting your home. Furthermore, our roofing company makes an effort to use highly-rated products, a high level of service, and as straightforward a process as possible. You can rest assured, knowing you are in good hands with Popejoy Roofing.
When is the Time for Replacement?
Replacing your roof is a more significant decision than either repair or re-roofing. So, it's important to understand when a roof replacement is necessary in comparison to your other options. And thankfully, Popejoy Roofing can help you determine the best time for a roof replacement.
When Your Roof Has Reached a Certain Age

Most roofs are meant to last upwards of 20 to 25 years without significant issues. However, after 20 years, repairs become difficult to justify, as so much of the roof may begin to deteriorate over that time. And especially if approaching the end of a warranty, roof replacement is your best option when dealing with an old roof.

When Your Roof Has Taken Too Much Damage

Natural disasters sometimes occur and put more stress on a roof than they were designed to take. Thus, you may be left with large parts of your roof in need of repair. If it's only a few problem spots, repairs are the best solution. However, when 25-30% or more of your roof has been damaged, it becomes more advantageous to have the entirety of it replaced.

When Your Roof's Damage is More Than Surface Level

For roofers, repairing and replacing patches of shingles on a roof is an easy enough job, and usually does the trick when fixing a roof. However, if broken and missing shingles are left unaddressed for too long, weather and the elements can begin to cause more severe damage to your roof. If the base and supports for your roof start to rot and deteriorate, a roof replacement may be your only option.
Other Service Options
As mentioned previously, roof replacement for Urbana IL residents may not be the best option. And if this is the case, Popejoy Roofing offers a variety of other services to repair or improve your home's roofing. For example, the services we provide include:
Discover More with Popejoy
At Popejoy Roofing, we offer the best roof replacement Urbana IL has to offer. You can be confident in the quality of service our contractors can supply. Call us today at 309-530-4204 to request a free quote. Or, you can contact us via our email at popejoyroofing@gmail.com.