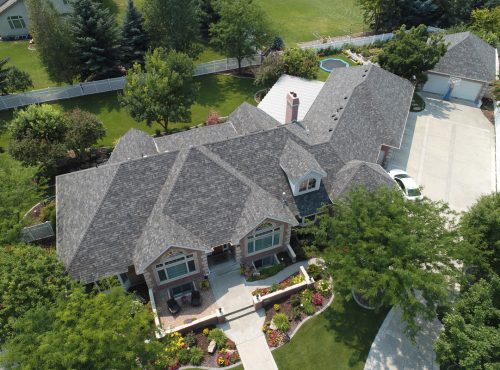 Company Near Me for the Best Roofers in Fisher IL
If you are searching for a top company near me for the best roofers in Fisher IL, look no further than Popejoy Roofing. We handle roof repair, roof replacement, roof maintenance, and new roof installation for commercial and residential properties. Our company partners with Malarkey Roofing to offer the finest quality Legacy, Highlander, and Vista shingles. In addition to outperforming other products, available shingles come with 30 years of warranty. If you have hail or storm damage, missing shingles, or a roof more than 20 years old, request a free quote now. We are the roofers that come highly recommended by your friends and neighbors with 5-star reviews.
Commercial Roofing Solutions
Popejoy Roofing uses only licensed, bonded, and insured contractors. That means all our roofing experts undergo the training and obtain the qualifications it takes to become the best roofers in Fisher IL. We even specialize in commercial flat roofs. In fact, our contractors can handle your project without causing you to shut down operations. We have more than 25 years of experience with commercial roofing repair and replacement.
Residential Roofing Services
Our local family-owned company understands how important your home is to your family. That is why we will respond quickly when you contact us for repairs or roof replacement. We work hard to offer you more value, the best products, and the best roofers in Fisher IL. Here are the top reasons why you should consider Popejoy Roofing for your residential roofing project:
Free Estimates
A response within 1 to 2 business days when you make a quote request
Quality assurance provided by our owner attending all job sites
A 10-year workmanship warranty
Clear and easy to read job proposals that provide you with all information about pricing, the work necessary to complete the project, payment policies, applicable warranties, and our cleanup process.
The best quality Malarkey shingles
The Benefits of Malarkey Shingles
Popejoy Roofing provides roofing materials that are better for the environment and that deliver better performance. Malarkey shingles are made with rubberized asphalt, providing superior weather resistance. Plus, the upcycled plastics and rubber used to manufacture our shingles reduce the amount of waste in landfills. In addition, the shingles are made with smog-reducing granules that help to rid the air of pollutants. When you hire us for your project, you receive the best products from the best roofers in Fisher IL. Here are the main reasons your property benefits from our roofers and Malarkey shingles:
Craftsmanship

Up to 50% more adhesive bonds than standard shingles.
Double the rain seals of standard products.
Two times the nailing area for faster and more accurate installation.

Performance

Up to 35% greater strength to prevent shingles from tearing.
Improved granule adhesion up to 65%.
The highest impact rating for resistance to hail damage.

Sustainability

Each roof diverts the equivalent of 5 tires from landfills.
Malarkey shingle roofs also divert 3,200 plastic bags from landfills.
The air pollution cleaned by Malarkey shingle roofs equal the affect of planting 2 trees.
Other Available Services
Popejoy Roofing helps you maintain your home or business with many helpful services other than roof repair or roof replacement, too. With the best roofers in Fisher IL, you also can benefit from the following services:
Contact the Best Roofers in Fisher IL
There is a reason commercial and residential clients consider Popejoy Roofing contractors to be the best roofers in Fisher IL. Our experienced, licensed roofers, the guarantees we provide, and the quality products we install offer maximum return on investment. Call us now at 217-600-2464 to request a free quote. In addition, you also can request an estimate or answers to questions by filling out our online form. We do offer flexible financing that can suit any budget.