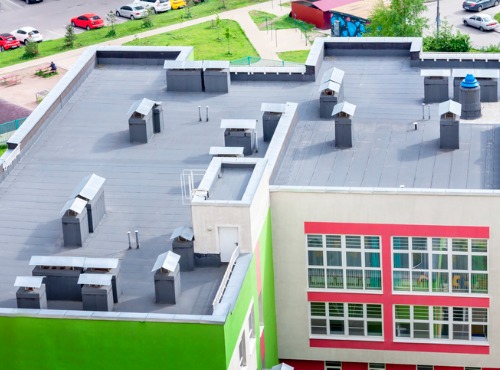 Roofers Near Me for Commercial Roofing in Fisher IL
Popejoy Roofing contractors provide installation, repair, and maintenance services for commercial roofing in Fisher IL. Our roofing contractors offer you more than 25 years of experience in providing residential and commercial roofing services. That includes experience and knowledge on how to repair and install flat roofs, too! With our roofing company, you always receiving the following benefits:
Licensed contractors certified to perform quality work on residential and commercial roofing.
A bonded company with proven results backed by insurance.
Insured contractors that eliminate liability for you if an accident does occur on your property.
Premium Vista, Highlander, and Legacy shingles, many of which come with a 30-year warranty.
A 10-year workmanship warranty that means you are covered if our work causes any problems.
Free job proposals that clearly outline in writing the project price, payment policies, warranty information, and responsibility for cleanup.
A fast response to your requests for a quote within 1 to 2 business days.
Our owner, John Popejoy, present on our projects to provide quality assurance.
Contact us now to request a free quote today!
Installation of Commercial Roofing in Fisher IL
Popejoy Roofing contractors can help if you need to re-roof an existing building or to finish new construction with commercial roofing in Fisher IL. For flat roofs, we recommend choosing white roofing because the solar reflectivity reduces cooling bills compared to darker colors. If your current roof is not code compliant, leaking, or damage, a new roof will better protect your business from water, wind, and storm damage. In addition, new roofing materials can also improve the energy efficiency of the building, saving you big on utility payments. Most importantly, a new roof can improve the property value of your commercial building.
Repair of Commercial Roofing
You may not know what sort of damage to spot when it comes to repair for you commercial roofing in Fisher IL. To help you identify warning signs, contact Popejoy Roofing for an inspection if you notice the following issues:
Pooling water – An obstructed or clogged drainage issue can weaken the surface of your commercial roofing with large accumulations of water.
Pierced or penetrated roofing materials – If you have polyurethane roof coatings, regular foot traffic can cause significant damage to commercial roofing.
Compromised flashing or pitch pans – The normal contraction and expansion of your roof can cause flashing to rip or crack. If you have damaged flashing or pitch pans, water will not get directed away from joints and seams like it should.
Commercial Roofing Maintenance
Regular inspections and maintenance can extend the life of your commercial roofing in Fisher IL. Our contractors can find minor damage and fix it before it costs you thousands of dollars. Plus, most commercial roof warranties require annual or more frequent roof inspections to maintain warranty coverage. In fact, some roofing material manufacturers allow you to apply for a warranty extension with proof of regular inspections and maintenance.
Other Services Available
Popejoy Roofing handles many services when it comes to residential and commercial roofing in Fisher IL. Contact us if you need assistance at your home or business with any of the following:
Free Quotes on Commercial Roofing in Fisher IL
Popejoy Roofing will get back to you within 1 to 2 business days when you request an estimate for commercial roofing in Fisher IL. Contact us today to get your free quote. If you need more information about us or our services, call 217-600-2464. If you want to see what others are saying about us, click here to see customer reviews.