Top Rated Services for Commercial Roofing in Dewitt County IL
Get five-star rated services from Popejoy Roofing when you need installation or repair for commercial roofing in Dewitt County IL. We take great pride in offering you experienced contractors with the expertise to provide the best results. Unlike other general roofing contractors, Popejoy Roofing specializes in flat roofs and all other types of commercial roofing in Dewitt County IL. Plus, we partner with Malarkey to provide our customers with the best products from top-selling brands. As a result, our contractors install the best performance products from Vista, Highlander, and Legacy.
With our company, you get services from professionals with 25 years of industry experience and training. We do not use subcontractors. In fact, all our roofers are licensed, bonded, insured, and trained to provide the best services for your commercial roofing needs. We enforce high standards of workmanship by having our owner at each job site to provide quality assurance. Most importantly, you are not left waiting when you need help. We respond quickly when you request services from us. If you need a free quote from roofing services, call 217-600-2464 or contact us online.
Contractors Experienced with Flat Commercial Roofing in Dewitt County IL
It takes a different set of skills to repair and install flat commercial roofing in Dewitt County IL. Not all general roofing contractors have the expertise and experience to do the job right. However, Popejoy Roofing contractors work on flat roofs all the time. We put decades of experience and superior craftsmanship into all our flat commercial roofing projects. Plus, we can even repair poorly installed roofing materials if you need us to do so. But if you want to save time and money then call the flat roofs experts, Popejoy Roofing.
When Is It Time to Replace My Roof?
We understand that you have a business to run. You do not have time to keep track of the day-to-day performance of your roofing materials. However, there are a few warning signs to look for with failing or aged commercial roofing in Dewitt County IL.
Interior walls and ceilings start to get water spots.
Damp or rotted areas appear on your roof.
Large sections of shingles are warped or missing from your roof.
Shingles look dried out, cracked, blistered, bent, or contain visible holes.
Get the Best Roof Warranties
When buying replacement commercial roofing, you want assurance that you made the right decision. When you use Popejoy Roofing, our Malarkey products give you peace of mind. The shingles we install offer up to 30 years of warranty protection. Furthermore, we guarantee all craftsmanship that goes into the installation of your roof. Consequently, we can allay all your concerns about shoddy craftsmanship. If you develop a problem, we will fix it for free.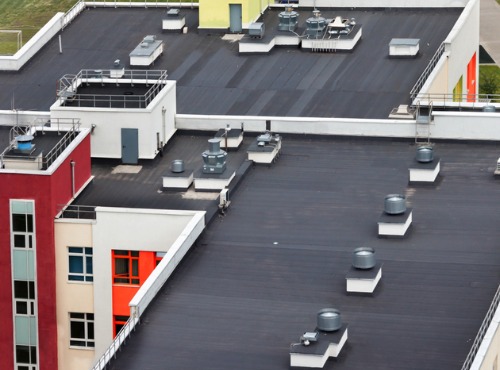 Free Quotes for Commercial Roofing in Dewitt County IL
If you request a quote for commercial roofing, Popejoy Roofing will act quickly, responding with an answer in 1 to 2 business days. We know you do not want to wait any longer than necessary when you have roof concerns. If you have a leaky or damaged roof, do not delay. Give us a call right away at 217-600-2464. You can also make an estimate request online by filling out our contact form. Remember, when it comes to your roof, Popejoy Roofing has you covered!