Top Roofers Near Me for Commercial Roofing in Douglas County IL
Popejoy Roofing contractors provide superior workmanship, products, and services for commercial roofing in Douglas County IL. More Central Illinois businesses prefer our roofing company and refer our services with 5-star customer reviews. We partner with Malarkey Roofing to offer some of the best performing asphalt shingles. In addition, we have more than 25 years of combined experience on specialty commercial roofing like flat roofs. All our roofing contractors are licensed, bonded, and insured. Plus, our products and services are backed by some of the best warranties in the industry. Email us now to request a free estimate for your commercial roofing needs.
Communities We Serve in Douglas County IL
We are a local Central Illinois roofer that takes pride in serving other small businesses when it comes to commercial roofing in Douglas County IL. Our team specializes in roof maintenance, roof repair, and roof installation on commercial properties in the following Douglas County communities:
Hindsboro IL
Arcola IL
Murdock IL
Tuscola IL
Villa Grove IL
Arthur IL
Camargo IL
Newman IL
Atwood IL
Best Contractors for Commercial Roofing in Douglas County IL
We use only licensed, bonded, and insured contractors, making us one of the highest-rated local companies for commercial roofing in Douglas County IL. Our expert roofers come with 25 years of experience, expertise, and training in installation and repair of flat roofs. With our roofers, you will receive a flat roof that delivers these benefits:
Roofs that are virtually leak free unless the surface gets damaged.
Roofing solutions that are easier and cheaper to install, maintain, and repair.
Roofs with better heat retention that help to lower your heating bills in the winter.
A roof that will resist UV sunrays, water damage, and severe weather.
Roofing that will stand up to heavy foot traffic without being damaged.
The Importance of Using Commercial Roofing Specialists
To get the most for your money, you need to use roofers with experience and training when it comes to commercial roofing in Douglas County IL. Many roofing companies only handle service for residential roofing. Unfortunately, roofers without the requisite experience with commercial roofing can do more harm than good. Therefore, it is important to hire roofing contractors who know how to properly install and repair commercial roofing. Here are some of the most important considerations when it comes to finding the right commercial roofing contractor:
Commercial roofs feature larger spaces with heavy equipment like air conditioners installed on their surface. As a result, these kinds of roofs must get installed properly to hold up to a larger amount of foot traffic than on residential roofs.
Water drains differently on commercial roofing. So, it requires specialized maintenance services.
Low-sloped or flat roofs must be installed differently than homes with pitched roofs.
Commercial buildings are taller than homes in most cases. Consequently, commercial roofs require the use of specialized techniques and equipment like scaffolding.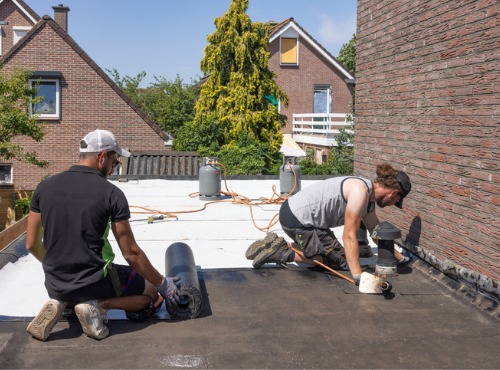 Free Quotes for Commercial Roofing
Do you need services for your commercial roofing in Douglas County IL? Popejoy Roofing will respond within 1 to 2 business days if you need a free estimate. Give us a call at 309-530-4204 to receive a written proposal for your project. Also, you can get in touch with us online by using our convenient contact form to request a quote or find out more information.