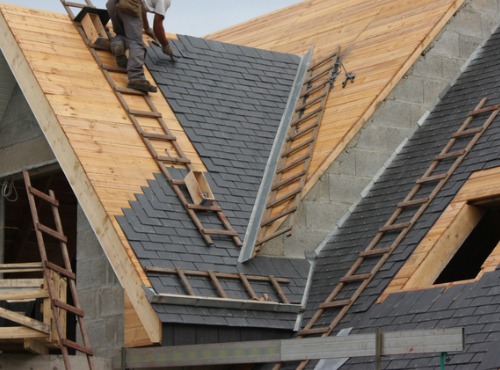 Believe in the Quality of Our Central Illinois Roofing
Based on the changes in weather and the up and down temperatures of the Midwest, exterior home renovations are an unusual beast to tackle in Illinois. And especially when it comes to roofing, you want to make sure it can withstand anything the elements can throw at it. Thankfully, one such roofing company has both the quality and experience necessary when providing you the best roofing services. You can rely on Popejoy Roofing to provide you with Central Illinois roofing services.
John Popejoy, the founder of Popejoy Roofing, began his roofing business with customers at the center of it. Through his previous experience with Corn Belt Roofing, John learned the tools of the trade, and how to provide clients the quality of a more prominent roofing company while remaining a small business. Furthermore, we work to build relationships with those we work with, offering constant communication, high-quality materials and attention to detail.
What You Get with Popejoy
Roofing is most of what we do, so we strive to offer the best services associated with it. From roof repair to roof replacement, we get the job done fast and effectively. We take our work seriously, as we understand a roof is one of the primary ways you can protect your home and family. Thus, we offer:
After addressing the severity of damage to your roofing, we will decide on whether repair or replacement is necessary. However, you can be sure we will never offer more than we feel is needed for the best protection. Thus, roof repair may consist of numerous elements, all targeting key spots of your roof. For example, we may choose to replace shingles in certain spots, or we may determine fixing flashing around joints or vulnerable parts of your roof are the best ways to protect your home.
When your roof is beyond repair, that's when we will suggest a new roof or roof replacement. This job requires more work than a repair, but we place warranties and assurances on our service that give you peace of mind. Sometimes, merely re-roofing over your existing roof is enough in terms of providing the protection you need. However, if damage runs deep, we perform tear-offs, completely removing your old roof and replacing it with a new one. This also gives us the chance to fix the base and supports for your roof.
Everything Else
While our primary focus is roofing, our company offers a few additional services related to keeping your home's exterior or interior in the best shape possible. For example, we can install attic ventilation systems to ensure the temperature of your home doesn't get out of control. We also do gutter cleaning to protect your property and roof from water damage.
How We Set Ourselves Apart
At Popejoy Roofing, we do things differently for our clients. Our team strives to offer excellent Central Illinois roofing through our partnerships, guarantees and experience. For example, when you hire Popejoy Roofing, you get:
Free, No Strings Attached Quote – When you request a quote from our team, we want to give you as full a picture as possible for your potential roofing job. We only quote you for what we believe is necessary, encouraging transparency on our end.
Malarkey Partner – As a Malarkey partner, we offer popular products like Vista, Highlander and Legacy Shingles. Furthermore, we offer extended warranty protection on Malarkey products.
Assurances – For both our work and products, we offer varying degrees of warranties. For all our services (excluding repair), you receive a ten-year warranty. Additionally, with our various products, we offer our "Good, Better, and Best" warranties, so you are always happy with your purchase.
Licensed, Bonded and Insured – You don't want to take chances with your roofing, and neither do we. Thus, our company and team are all licensed, bonded and insured. So, if problems do arise during your roofing project, you won't be stuck footing the bill.
Call Us Today
It's never been easier to find the quality Central Illinois roofing you need with the incredibly experienced team at Popejoy Roofing. Call us today at 309-530-4204 to request a free quote. Or, you can contact us via our email at popejoyroofing@gmail.com.