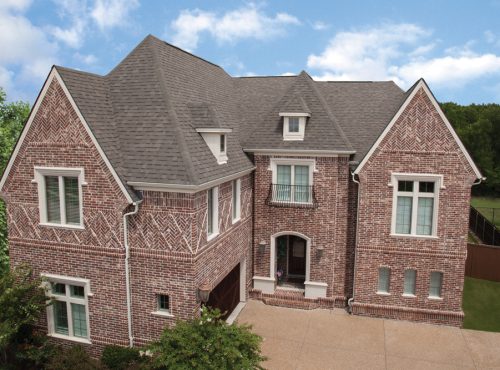 Local Roofing Company with the Best Roofers in Mahomet IL
Popejoy Roofing is your home for the finest quality products and services from the best roofers in Mahomet IL. Our roofing contractors provide roof replacement, roof repair, and roof maintenance services for commercial and residential clients. We partner with Malarkey Roofing to offer premium Malarkey shingles that come with available products that carry an industry-best 30-year warranty. Contact us today to receive a free estimate for your roofing needs. We are the roofing contractors rated among the best by our customers with 5-star reviews.
Roof Replacement
Our crews handle roof replacements quickly and efficiently. With a full roof replacement we tear off existing roofing materials down to the wood deck. Then, we replace any rotten wood. Next, we install the proper underlayment materials. Finally, we hammer down the new shingles and install proper flashings. We approach every roof with the safety of your property from the weather in mind. As a result, we do not leave roofs unprotected from the elements. Any areas that we tear off will get covered that day to keep your home or business safe and dry. That is one of the reasons we are the best roofers in Mahomet IL.
Service Near Me with Qualified Roofers
Popejoy Roofing uses only licensed, bonded, and insured roofing contractors. As a result, our company puts your mind at ease with qualified professionals that come with more than 25 years of experience. Plus, you face no liability if a member of our team gets hurt during the project. Here are the top reasons why customers rate us as the best roofers in Mahomet IL:
We respond within 1 to 2 business days when you request a free estimate.
Our company will prepare a written proposal for you to review. That way, you will receive all the information you need about the price, work involved with the project, payment policies, applicable warranties, and our clean up process.
We offer free estimates.
Guaranteed Products and Labor
We understand the significance of your investment when it comes to roofing solutions. You are spending a lot of money to build, maintain, or renovate your property. So, it is only natural that you want to feel confident you are getting the most for your money. Plus, we realize it is not always easy to trust a roofing contractor. So, we provide you with warranties that let you know you are covered in case you encounter a problem.
Shingle products come with up to 30 years of warranty.
We provide a 10-year warranty on our workmanship. If our labor causes an issue in those 10 years, we will come out to fix it free of charge.
Other Services We Offer
Popejoy Roofing provides many services that can help you maintain or improve your home or business. With the best roofers in Mahomet IL, you also can benefit from the following services:
Contact the Best Roofers in Mahomet IL
Popejoy Roofing is your local source for the best roofers in Mahomet IL. Call Popejoy Roofing now at 217-600-2464 to request a free quote. In addition, you also can request an estimate or answers to questions by filling out our online form. We do offer flexible financing that can suit any budget.