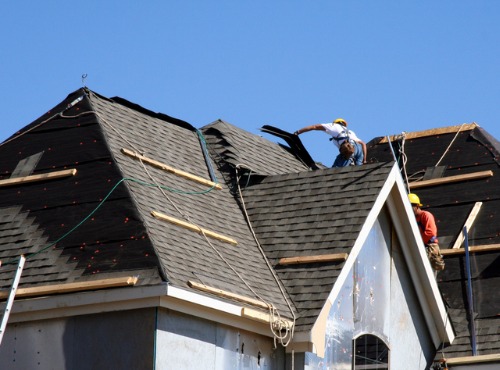 Top Local Company for Residential Roofing in Mahomet IL
Popejoy Roofing contractors provide 5-star rated services when you need repair or replacement of residential roofing in Mahomet IL. Call 217-600-2464 now for a free estimate if you spot obvious damage or your roof is more than 20 years old.
Not all residential roofing companies are the same. Our company uses only licensed, bonded, and insured contractors. That way, you get services from qualified professionals who provide superior craftsmanship. As a result, we guarantee our labor. We provide a 10-year workmanship warranty. So, we will fix any issues caused by our labor for free. As a Malarkey partner, we provide only premium shingles from brands like Vista, Highlander, and Legacy. So, you get products that come with up to 30 years of warranty protection.
Popejoy Roofing takes our reputation for providing superior products and services seriously. For that reason, our owner attends job sites to assure quality work. Consequently, we can assure that you get the most value for your investment. Contact us now to request a free estimate. We will respond within 1 to 2 business days.
Repair of Residential Roofing in Mahomet IL
We can offer you many great benefits when you need repair of residential roofing in Mahomet IL. Therefore, give us a call to receive the following advantages:
Avoid Water Damage – A roof with a few blistered, deteriorated, or missing shingles can cause a lot of property damage. Unfortunately, damage that appears insignificant can destroy interior ceilings and walls with water leaks. When that happens, you will get soaked with a large repair bill.
Save on Power Bills – Holes in your shingles allow extremely hot or cold air to seep into your home. If that occurs, your power bill will rise dramatically because it will take more energy to heat or cool your home. When you make the necessary repair of residential roofing in Mahomet IL, you can prevent that outside air from coming inside. Therefore, you can cut your spending on energy by better moderating temperatures in your home.
Make Your Home More Attractive – Faded, damaged, or stained shingles destroy your curb appeal. In addition, they can lead to water leaks that will further deteriorate wood on the inside of your home. For that reason, you should replace those aged or eroded shingles. When you do, your home will return more money on the resale market.
Replacement of Residential Roofing
We understand that you may want to put off replacement of residential roofing in Mahomet IL. After all, the project costs a lot and takes some time to complete. However, we take the hassle out of the process and provide replacement materials at an affordable price. The premium shingles we install come with warranty protection for up to 30 years!
Other Residential Repair Services Available
Popejoy Roofing provides several other services along with repair or replacement of residential roofing in Mahomet IL. Give us a call at 217-600-2464 if you need any of the following services:
Free Estimates for Residential Roofing in Mahomet IL
Whether you need roof repair or roof replacement, Popejoy Roofing can provide a free quote on residential roofing. Plus, we respond within 1 to 2 business days so you can make an informed decision as soon as possible. Call now at 217-600-2464 or make an online quote request for your roof.