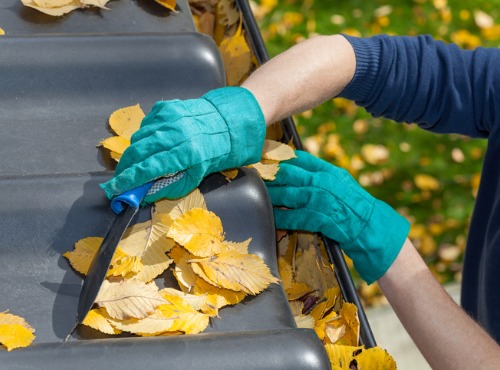 The Gutter Cleaning in Clinton IL Your Home Needs
While gutter cleaning is inconvenient for any household, it's crucial to ensure it's completed promptly. Otherwise, the potential for clogged gutters and overflowing water leaves room for possible water damage. And the last thing you need for your home is water damage to take hold (which will require further repairs). Thus, the need for gutter cleaning in Clinton IL is urgent. And if looking for a company who can handle gutter cleaning fast and efficiently, look no further than Popejoy Roofing Inc.
The team of experts at Popejoy Roofing knows a thing or two when it comes to maintaining your roof. Your roofing is perhaps the most integral part of protecting your home, and your gutter system plays a significant part in that protection. Although the work your gutters may do seems simple, it's essential to prevent damage and eventual repairs. And all it takes is some annual upkeep to ensure your gutters are functioning as they should.
The Best Reasons for Gutter Cleaning
It's not wise to neglect cleaning your gutters. You might find yourself needing further repairs for your home if you don't take action for your gutters immediately. Here are some of the best reasons you need to stay on top of cleaning your gutters:
Water Damage Prevention – Water is more harmful to your home than you might first think. If left to run down the sides of your home and seep into your foundation, you could be looking at significant home repairs. A functioning gutter system is designed to keep water away from the most vulnerable areas of your house.
Pests – If there's enough build-up in your gutters, bugs, birds and animals might decide to make themselves comfortable. And by attracting pests to your home, you're risking the chance they push further into your interior. However, by staying on top of gutter cleaning, you remove the likelihood of animals deciding to make residence on your roof.
Mold – After a while, water can begin to pool in a clogged gutter. This excess of water, with the right temperatures, can facilitate the growth of mold and bacteria. And if there's one thing you can be sure of, mold will find a way to infest your home. Conversely, all it takes is an annual gutter cleaning, and the conditions for mold and bacteria growth won't exist.
Extra Costs – For all the previously mentioned problems, you're looking at potentially expensive repairs if any get severe enough. And in some cases, uncleaned gutters can eventually lead to gutters and facia boards separating from your home, further complicating issues. But, if you have your gutters cleaned on a semi-regular basis, repair costs can be avoided entirely.
Further Roofing Services
In addition to gutter cleaning for Clinton IL, Popejoy Roofing can provide the care and products you need to maintain your home or business's roof. Furthermore, we are one of the best roofing companies throughout Central Illinois with our available warranties and stringent credentialing requirements. Some of the other services we offer include:
Contact Our Office
Don't wait any longer to begin gutter cleaning in Clinton IL for your home. Call the professionals at Popejoy Roofing Inc. to get the job done today! You can contact us at 309-530-4204 to schedule a free quote. Also, you can email us at popejoyroofing@gmail.com.