Put Your Trust in the Best Roofers for Clinton IL
Whether looking for a contractor after a severe hailstorm or needing help replacing an incredibly old roof, you only want the best roofers in Clinton IL. A roofing company that's fast, reliable and flexible is ideal. However, it's not always easy to find a contractor that hits all three main criteria, and locally you can find only one: Popejoy Roofing. When you hire Popejoy, you can count on our roofers for thorough inspections, fast repairs, complete roof replacements, and the right financing options for your budget.
At Popejoy Roofing, we believe in putting the customer at the center of everything we do. From the warranties we offer to the credentials we require our roofers to have, customer satisfaction is our promise to you. John Popejoy, the founder of Popejoy Roofing, has spent his years performing roof contracting work and running businesses that focus on personability. By channeling his knowledge and experience into Popejoy Roofing in 2016, he provided one of the best options for roof service throughout Clinton, Champaign, Urbana and the surrounding areas.
The Services You Can Expect
Popejoy Roofing puts a significant focus on ensuring your roof is up to standards. So, based on the nature of your roof after inspection, we will advise you on the best path forward.
Roof Repair – Sometimes, a severe windstorm can blow a few shingles off your roof, or debris can hit your shingles and dent or dislodge them. Either way, such scenarios can quickly be resolved with roof repair. After inspecting your roof, if we determine we can protect and seal your home by only replacing a few shingles, that's exactly what we'll do. We'll never pressure you into paying for more than you need.
Roof Replacement – However, if the damage is seen to be a bit more extensive than a few "problem spots," we may suggest roof replacement. Roof replacement is ideal if large swaths of shingles are damaged or the entirety of your roof has reached a certain age. In either case, we will either recommend re-roofing or a tear-off. Re-roofing means placing new shingles over the old. Conversely, a tear-off consists of removing old shingles and putting new shingles in their place.
Roof Adjacent Services – While not directly related to your roofing, we offer additional services to protect your home and ensure your comfort. For example, we offer gutter cleaning and repair to keep your house safe from water damage. Also, we can perform attic ventilation installation. This is meant to provide proper air-flow for your upstairs and keep your home at a comfortable temperature.
How Popejoy Stands Out
As mentioned previously, Popejoy Roofing is a customer-focused business. We do everything we can to be the best roofers for Clinton IL residents. For example, we: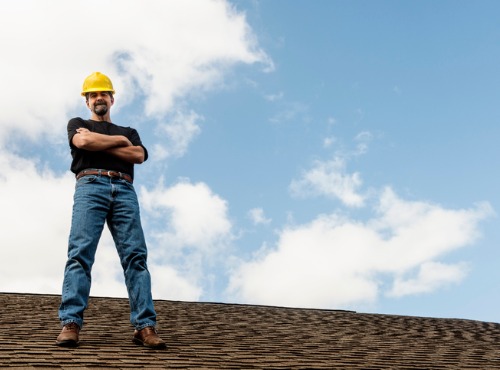 Offer Free Estimates – Not only are our roofing estimates cost-free, but their pressure-free too. After inspection, we only offer the services we believe to be most suited to your situation. If you decide you need to weigh your options first, we never push you into making an immediate decision.
We are a Malarkey Partner – Popejoy Roofing partners with Malarkey, offering popular products like Vista, Highlander and Legacy Shingles. Also we have the ability to offer extended warranty protection!
Offer Excellent Warranties – Through our "Good, Better, Best" program, we offer a wide selection of shingle options coupled with extended warranty options.
Provide Flexible Financing – We understand a new roof isn't always the cheapest expense but can be a necessary one. Thus, we work directly with you to work out the best options for financing. You should never have to feel stressed about the cost of your roof.
Call Today
Whether you need roof repair or roof replacement, you know the best roofers for Clinton IL to call. Contact Popejoy Roofing today at 309-530-4204 to request a free quote. Also, you can email us at popejoyroofing@gmail.com.