Flashing Repair for Champaign IL in a Snap
Your home is the ultimate in protection when it comes to keeping you and your family safe and dry. So, when your roof begins to leak, that's a problem. The first thing you'll want to do is get to the source of your issue. And while missing shingles or rotting wood might be the reason for leaking, the flashing on your roof is often one of the most vulnerable spots for your home. Flashing already works to protect weak points in your roof. So, when your flashing fails, it's time to invest in flashing repair for Champaign IL. And Popejoy Roofing is ready and willing to help out.
From roof installation to gutter cleaning, Popejoy Roofing offers an array of services meant to protect your home to its fullest. We understand how troublesome it can be to find reliable roofers, so we strive to take the uncertainty out of your search. John Popejoy, the founder of Popejoy Roofing, has decades of experience in the roofing industry. With his skill and knowledge, he works to make the "personability" part of the roofing process. You are more than a customer; you're part of the Popejoy family!
What's Flashing and How Does it Affect Your Roof?
We've been talking about flashing all this time and how it plays an integral part in your roofing. But, do you know what flashing is? Once you understand the purpose of flashing and what it does for your roof, you'll understand why it's so essential to repair it.
What is Flashing?

In examining your roof, you may notice metal portions where the roof meets a chimney, a seam, a skylight, or another portion of your roof. Those metal pieces are called flashing. Flashing is often placed on roof edges, valleys and junctions, or on roof obstructions (like pipes or chimneys). Roof flashing is almost always made of metal (copper or steel), but it sometimes can be made of plastic or rubber.

What Does Flashing Do?

The purpose of flashing is to cover some of the most vulnerable spots on your roof. Where shingles meet a chimney or a skylight, some gaps go all the way into your home. Such gaps and crevices also exist for roof edges and junctions. So, to counter these weak points on your roof, flashing is put into place. Flashing also exists to direct the flow of water off your roof and into your gutters.

When Does Flashing Need to Be Fixed?

If your roof begins leaking, the first thing many a roofer will do is attempt to track the leak to the source. Often, we find that leaking stems from the crevices and gaps your flashing is supposed to protect. Damaged flashing becomes to most noticeable when you see it begin to corrode or rust. Flashing can also lose nails, have sealant dry out, be knocked loose or incur numerous other issues.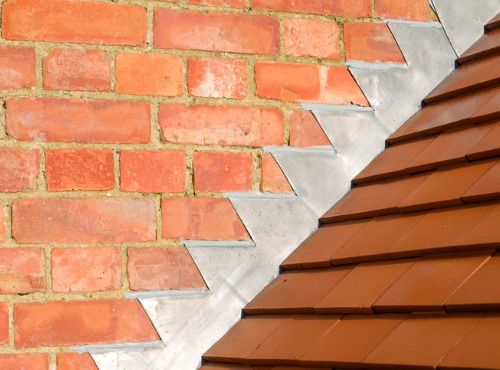 How Else Can We Help?
While flashing repair for Champaign IL is a top concern for many homes and businesses, Popejoy Roofing can offer much more in the way of roof installation, repair and maintenance. Furthermore, we offer other associated services to improve the exterior of your property. For example, we provide:
Call Us Today
When you want to be confident in the flashing repair in Champaign IL you receive, look no further than the experts at Popejoy Roofing. Call us today at 309-530-4204 to request a free quote. Also, you can email us at popejoyroofing@gmail.com.