Need Roofing in Urbana Champaign IL?
We have what you're looking for: reputable roofers at a great price with a variety of services. Here at Popejoy Roofing, we are skilled in all aspects of roofing, from repair to installation and everything in between. Our company is family-run and we serve all of the Cook, Lake, McHenry, Kane and DuPage counties. Our many years of experience show that you can trust us to protect and improve your home with a quality, long-lasting roof. Trust our experienced, licensed and insured roofing contractors, where we specialize in both residential and commercial roofing work. Whether asphalt or metal, we can handle your needs in terms of roofing in Urbana Champaign IL.
7 Reasons to Choose Us For Roofing
From flexible financing plans to licensed contractors, check out these seven reasons why you should hire Popejoy Roofing.
Choose from several flexible financing plans.
We use the highest quality building products by trusted manufacturers.
10-year Workmanship Warranty: Most shingles come with a 30-year manufacturer's warranty, but we are so confident in our work that if there is a problem with the workmanship of your building/home, we will fix the problem at no charge.
We are licensed, bonded and insured. We are licensed in both residential and commercial roofing. Being insured means we are covered through our own insurance should an accident take place on your property.
We give free estimates within one to two working days of your request.
We have more than 25 years of combined experience in both commercial and residential roofing.
Before starting the job, we will give you a proposal outlining the details of the project, price, payment policies, warranty information and responsibility for cleanup.
Established in 2016
2016 is the year John Popejoy established Popejoy Roofing, Inc. after many successful years as a partner of Corn Belt Roofing, LLC. That's where he honed his skills in the fields of roofing and small business management. After that, he decided to create his own family-owned company, a place where we pride ourselves on quality and attention to detail.
Did you know a large portion of our business is based on referrals and previous customers? It's something we're incredibly proud of. Personalized attention is also very important to us. That's why you'll see John present on every job, ensuring timely and accurate progress and completion as all of our contractors strive for your complete customer satisfaction.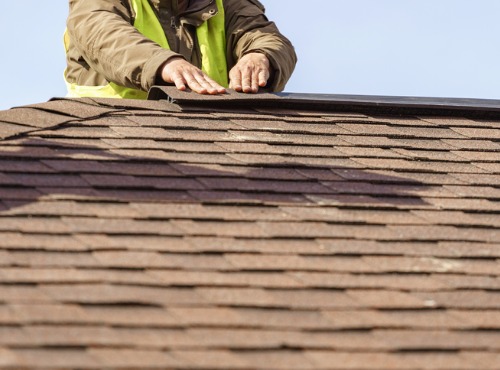 Look to us for a strong 10-year workmanship warranty to back up the quality of our work!
Our Specialties
Licensed for both residential roofing and commercial roofing, we offer these roofing services:
Contact Popejoy Roofing
If you need roofing in Urbana Champaign IL, please contact us at 309-530-4204 to request a free quote and inspection. Also, you can email us at popejoyroofing@gmail.com.