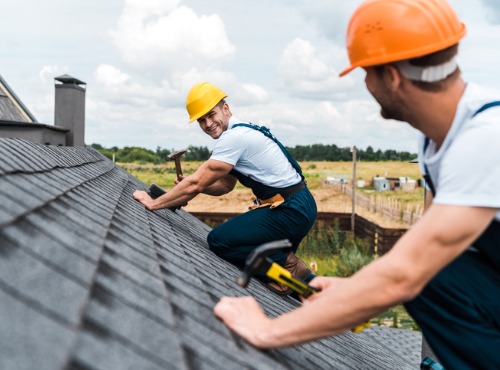 Find Top-Rated Local Pros for Roof Installation in Clinton IL
Popejoy Roofing contractors provide top-ratedresidential and commercial roof installation in Clinton IL. Get a free quote now by calling 309-220-5359 for roof repair or replacement.
When your property needs roof installation in Clinton IL, we start by tearing off the old roof and inspecting for damage. Next, we get damaged areas back up to local codes by reframing those roof sections. Then, we use plywood to build a new roof base and protect your roof by creating a water-tight membrane. Consequently, your new roof will better protect your home or business by directing water to gutters and drainage areas. Lastly, we will install the color and style of shingles you prefer to make sure your roof matches your taste.
Our company offers the top warranties offered by manufacturers because of our relationship as a Malarkey partner. Furthermore, we give you a selection of the finest shingles from Vista, Highlander, and Legacy. Most of these premium shingles come with warranties for 30 years! Plus, we back our workmanship with a guarantee to fix any mistakes we make for free. Contact us now for a quote.
Why Hire Us for Roof Installation in Clinton IL?
Popejoy Roofing has installed so many roofs that you could stretch shingles from DeWitt County IL all the way to the Atlantic Ocean. In fact, homeowners and businesses in Clinton love our services almost as much as the annual Apple-N-Pork Festival.
It's because of our dedication to customer service. We value your time. For that reason, we respond within 1 or 2 days when you want a quote. Plus, we provide you with an easy-to-read job proposal outline everything from pricing to payment policies to clean-up responsibilities. In addition, we offer you more value because of the following:
We use only LICENSED That means you can remain confident your job rests in the hands of professionals certified as residential and commercial roofers.
Our services are so trustworthy that we are BONDED. That means a bonding company will insure our work because of our reputation for quality.
We can show you proof that we are INSURED. Consequently, you won't lose a lot of money using your owner property insurance policy if someone gets injured in an accident during work.
We Do More Than Just Roof Installation in Clinton IL
Popejoy Roofing is your trusted local source for roof installation in Clinton IL. You won't find better quality roofers for roof repair or replacement in DeWitt County IL. However, those aren't the only services we can offer you. In fact, you can rely on us for help with property maintenance such as the following:
Get The Best Roof Installation in Clinton IL
Popejoy Roofing provides you with top-rated local pros for the best roof installation. To get a free quote, give our team a call at 309-220-5359 or request one online. Remember, when you need a roof, Popejoy Roofing has you covered!