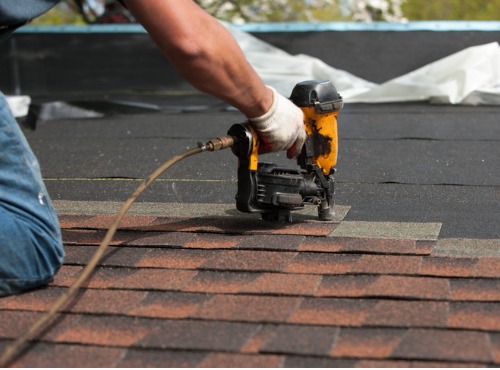 Only the Best Roofs with Malarkey Shingles in Clinton IL
If you've ever found yourself admiring the roof of a neighbor or business, there's a good chance you're appreciating a Malarkey roof! Malarkey offers incredible roofing products for residential and commercial buildings, with beautiful colors and unique features you can only find with their brand of shingles. And thankfully for you, finding Malarkey shingles for Clinton IL isn't hard to do! Popejoy Roofing is proud to be an official partner of Malarkey.
The Advantages of a Malarkey Roof
Although their name is "Malarkey," their roofing products are anything but. Instead, Malarkey shingles are some of the best in the roofing industry, with unique features that allow them to stand out from other manufacturers.
Different Options

For residential roofing, Malarkey has several options for homeowners to choose from. Designer shingles give you the look of a cedar shake roof. Laminated architectural shingles offer a dimensional appearance to your roof. And 3-tab shingles match more closely to the traditional shingle style. For commercial roofs, you can select from sloped, flat, vegetative and more.

Smog-Reducing Shingles

All Malarkey roofs now use shingles with 3M™ smog-reducing granules. These shingles can harness sunlight to photocatalytically convert smog into water-soluble ions. Or, in less technical terms, Malarkey shingles in Clinton IL can significantly reduce air pollution. These shingles are one-of-a-kind in the roofing industry.

Secure Choice™

The Secure Choice™ roof system works in conjunction with Malarkey's selection of roof shingles. From the roof deck to the underlayment, we provide dependable and quality-controlled roofing products to match the quality of your shingles. In addition, the Secure Choice™ system is meant to assure all aspects of your roofing align perfectly to ensure maximum efficiency from your roof.
What Popejoy Can Offer
While Popejoy Roofing supplies locals with Malarkey roofing products, we also provide our own incredible service throughout Champaign, Clinton, Bloomington and the surrounding communities. For example, our services include:
Learn More
As an official Malarkey partner, you get the real deal regarding Malarkey shingles for Clinton IL. Together with our excellent products and exceptional service, we provide households and businesses with the roofing service they need. To learn more about Popejoy Roofing and what we can do for your property's roof, call us today at 309-530-4204. Also, you can email us at popejoyroofing@gmail.com.