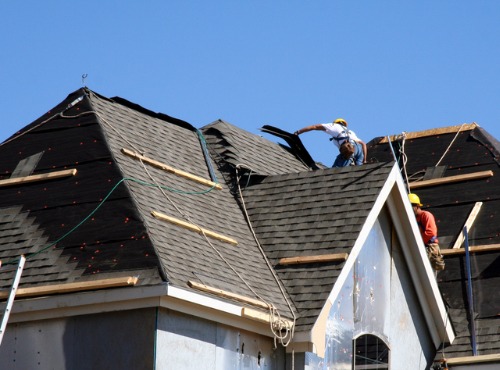 Finding the Right Roof Contractors for Fairbury IL
As exterior home renovations are being planned for the season ahead, you ought to consider a roof inspection as part of your to-do list. While your roof might seem fine at first glance, there can be deeper issues of damage or age that are affecting the entirety of your home. By allowing roof contractors for Fairbury IL to inspect your roof, you can uncover problems before they potentially become worse. Call Popejoy Roofing today, and we'll quickly discover what's best for your roof.
Leave it to the Professionals
Fixing or installing portions of a roof might be something you figure you and a few friends can easily tackle. However, roofing is more intricate and delicate than you might first think. Professional help is highly recommended when addressing problems with your roof.
Safety

Roofing is sometimes a dangerous task. With residential roofing, you can expect to be at least a couple of stories off the ground (and sometimes higher with commercial roofing). Without the proper safety equipment and roofing knowledge, you risk seriously injuring yourself in a fall. Thankfully, roofing companies are experts at what they do, and Popejoy is no different.

Experience

If you haven't worked on roofs before, there's a greater chance DIY roofing can lead to costly mistakes. It takes years of experience and training to understand the finer points of repairing or installing a roof. And if not done right the first time, you risk damaging your home and paying for costly repair service you were trying to avoid in the first place! Instead, allow our roof contractors for Fairbury IL to handle your roofing job.

Time

Not only does our roofing experience save you money on potential repairs, but we save you time as well. Even with a basic understanding of roofing, it's tough to know where to begin. And if you leave a roofing job "partially" complete for too long, you put your home at risk without the proper protection. Conversely, Popejoy knows how to manage your roof repair, installation or replacement, allowing us to perform service quickly and efficiently.
The Best Products and Services
For residential or commercial roofing, Popejoy has shown time and time again we're the best contractors for the job. In partnership with Malarkey Roofing, we deliver roofing products with longevity, efficiency and energy conservation in mind. Furthermore, we employ highly skilled teams to perform the roofing services you need. For example, we offer:
Call Our Office
When you pick Popejoy Roofing for your roofing needs, you can be confident you're picking one of the best roofing contractors for Fairbury IL. To learn more, you can contact us today at 217-600-2464. Also, you can reach us via email at popejoyroofing@gmail.com.