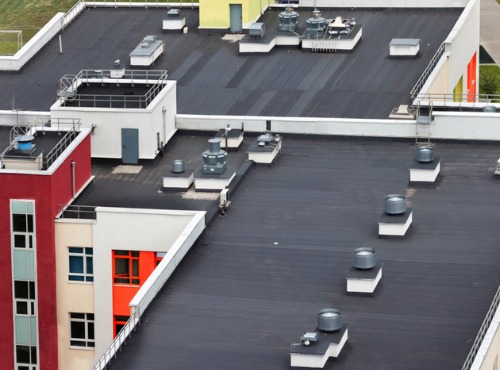 Invest in a Commercial Roof Contractor for Urbana IL
While roofing of all types can be challenging or complicated, commercial roofing is more difficult. As such, ensuring your roof repair or maintenance is taken care of by a professional is in your best interest. And when searching for a commercial roof contractor for Urbana IL, there's one you can count on for their incredible workmanship and experience. Be sure to give the team at Popejoy Roofing a call!
What Our Professional Roofers Can Do
Whether or not your commercial roofing needs repair, it's a good idea to have a professional roofer inspect it now and again. Doing so will help cut down on potentially expensive repairs, keep your facility secure and increase the longevity of your roofing.
Prevent Future Repairs

The one thing every business owner dreads is the need to perform roof repairs. And depending on the extent of damage, a repair might be more costly than you prefer. Thankfully, Popejoy has two options for you. First, we offer our roof repair services more affordable than other roofing contractors. Second, we can provide annual checkups on your roofing to catch problems before they get worse.

Keep Your Employees Happy

Yes, your employees will love your facility's new roof, too! You might not initially realize it, but a properly installed roof lends significantly to the overall quality of your facility's interior. For example, your roof can ensure further control over temperatures, helping you and employees stay comfortable all year long. Additionally, your tightly sealed roof prevents water from escaping into your facility. And a leaky roof, if left unchecked, can foster mold and bacteria growth, thus putting the health of your employees at risk.

Increase a Roof's Longevity

It might seem obvious, but continued care of your roof can help increase its lifespan. However, even with something as simple as yearly checkups of your roofing, many business owners choose not to make this decision. And what little money you might save without roof inspections, you stand to lose more if roof repairs or replacement become necessary. Thus, it's crucial to have a commercial roof contractor for Urbana IL inspect your roofing on a semi-regular basis.
How Popejoy Can Help
Whether commercial or residential, Popejoy Roofing specializes in all types of roofing. Furthermore, we offer some of the area's best roofing products through our official manufacturing partner: Malarkey. And to show you how confident we are in the work we perform, roof installations are covered by our 10-year workmanship warranty! As such, our roofing services include:
Contact Our Office
Settle on a commercial roof contractor for Urbana IL you can rely on when you hire the experts at Popejoy Roofing. To learn more about our roofing products and services, call us today at 309-530-4204. Also, you can reach out to us online via our email at popejoyroofing@gmail.com to request a quote.