The Need for Gutters in Champaign IL
While it is true that some homeowners opt not to have gutters installed for their home, the Illinois climate makes it near necessary to have a gutter system in place. Between the rain and snow we receive in any given season, gutters in Champaign IL will do the work they need to protect your home from potential water damage and further issues. And if looking for the right company to help you with your gutters, whether installation, cleaning or maintenance, look no further than Popejoy Roofing Inc.
At Popejoy Roofing, we believe your roof is the most crucial part of protecting your home. Thus, the gutters attached to your roof play just important a role as your roof does. Your gutters' function is to catch water falling down your roof and transport it away from your home. You'll find the benefits from a functioning gutter system are numerous and something you should never go without. Otherwise, you'll need more than Popejoy Roofing to help maintain and repair your home's exterior.
What Can Gutters Do?
While we previously mentioned the specific job of gutters, there are more benefits to the duty they perform. From preventing erosion to protecting your home's foundation, you'll find gutters to be necessary to your property's upkeep.
Prevent Soil Erosion

If gardening or general yard upkeep is important to you, you'll want functioning gutters on the sides of your roof. Without gutters, water rolls off your roof and directly onto the surrounding landscape of your home. And while watering plants and shrubbery is necessary, too much water can end up killing your plants and ruining the soil, being counterproductive to your landscaping efforts.

Protect Your Foundation

In the same area where you wish to prevent soil erosion, you must also be careful to protect your home's foundation. And while water seems harmless enough, too much water concentrated on one area can seep deep into the ground, thus reaching your home's foundation. Water can then cause your foundation to crack, letting more water seep into your basement and causing further water damage to your home's interior.

Stop Siding Damage

Water that's left to flow down the side of your roof, and not through a gutter system, will eventually wear your siding down. While siding is meant to protect you against severe storms and the elements, a concentrated amount of water falling down the sides will cause your home's exterior to deteriorate faster. You may begin to notice staining or rotting alongside your house's sides, which can eventually lead to further interior damage.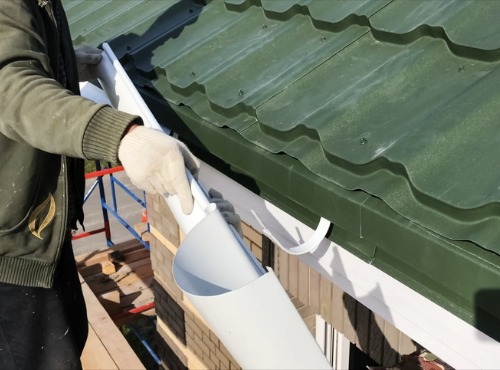 How Else Can We Help?
As the roofing experts for Champaign, Urbana, Clinton and the surrounding communities, Popejoy Roofing goes beyond maintaining, installing and cleaning gutters in Champaign IL. We apply our expertise to other roofing services and products, with the best warranties and most stringent credentialing industry requirements. For example, we offer:
Learn More
If interested in how Popejoy Roofing Inc. can best assist you with gutters in Champaign IL, give our office a call today! You can contact us at 309-530-4204 to schedule a free quote. Also, you can email us at popejoyroofing@gmail.com.