Call Popejoy Roofing For Flashing Repair In Fisher IL
How's your roof? If the flashing on your roof is at risk of failing, you might not realize it until water actually starts leaking into your house. So if your roof is older and you have not had an inspection in recent years, it's a good idea to check things out so any necessary repairs to your roof flashing can take place before anything goes wrong. For flashing repair in Fisher IL, call Popejoy Roofing.
What Is Flashing, Anyway?
If you look closely at your roofing, you'll notice small areas of metal sheeting. Look around the chimney, for example, as well as in the valleys and around vent pipes. Do you see thin metal sheeting in all of these places? That is the flashing that helps keep water out of places it should not go.
How Does Flashing Work?
This solid metal sheeting – the flashing – protects the areas of your roof most vulnerable to water damage. Flashing enhances the weatherproofing of your roof. In addition, flashing is often installed around windows or anywhere else requiring extra protection against water.
What Materials Are Used For Flashing?
Galvanized steel is the most commonly used flashing material. However, other metals also work. Aluminum is a less expensive choice, but it's also less durable than galvanized steel. Copper lasts the longest and looks the best – homeowners covet the rich patina and character that aged copper provides. The durability and beauty of copper come at a high price, though. For luxury homes, the added expense of copper flashing enhances the curb appeal.
What Non-Metal Materials Work As Flashing?
Although metal flashing is the norm, in some cases people choose rubberized asphalt, polyvinyl chloride, acrylic or plastic membrane instead.
What Is A Sign That The Roof Flashing Needs Repairs?
A leaking roof may signal the need for flashing repair or replacement. But you don't want to wait for a leak! Best practices call for a visual inspection of the flashing and the roof as a whole. If you suspect a severe storm or hail has damaged your flashing and roof, it's time for an inspection and, if necessary, flashing repair.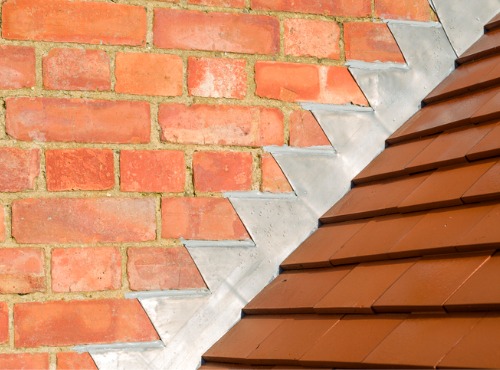 How Is Roof Flashing Repaired?
Sometimes, only a small area of your flashing shows damage and the rest of your flashing is fine. In these cases, we may be able to patch it. But if your flashing has more extensive damage – or was poorly installed – we will need to replace it all. If it's time to replace your roof, we generally recommend replacing all flashing at the same time.
Is It Time To Repair Your Roof Flashing?
If you're ready for flashing repair in Fisher IL, or if you want a thorough inspection to check the state of your roof and flashing, call Popejoy Roofing 217-600-2464. We partner with the industry-leading Malarkey Roofing Products, so you can have confidence in our quality.