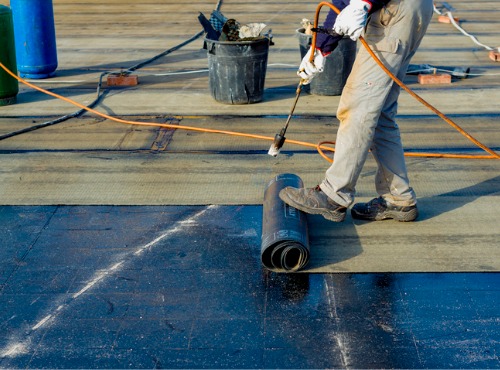 Searching for the Best Commercial Roofing in Logan County IL?
Then, let Popejoy Roofing contractors keep your industrial or commercial facility watertight with the best commercial roofing in Logan County IL. Our licensed, bonded, and insured contractors use 25 years of experience with commercial roofing repair and installation to provide the best workmanship. Whether you are a small local business, a regional chain, or a nationwide company, we can handle all your roofing needs. In fact, our services are the most recommended with 5-star customer reviews when it comes to commercial roofing repair, commercial roofing replacement, and commercial roofing maintenance. We provide consistent, quality-driven results with minimal to zero distractions to your business operations. Contact us today to schedule a roof inspection or request a free quote from the best Central Illinois roofing company for commercial roofing services.
Areas We Serve in Logan County IL
Whether you live in a large or small community, no job is too big or too small for Popejoy Roofing when it comes to commercial roofing in Logan County IL. Our trusted roofing experts have repaired and replaced enough roofs over the past 25 years to span from here to the Atlantic Ocean! So, do not hesitate to give us a call if you need roof replacement, roof repair, or roof maintenance in the following Logan County IL cities:
Lincoln IL
Hartsburg IL
Mount Pulaski IL
Chestnut IL
Emden IL
Atlanta IL
Broadwell IL
Cornland IL
Latham IL
Middletown IL
Elkhart IL
New Holland IL
Commercial Roof Replacement
Is the roof of your building old, worn out, or showing signs of wear and tear? A roof replacement may best serve to keep your business watertight, protected from severe weather, and as safe for use as possible for employees and customers. If regular maintenance and repair service do not seem to solve your issues, a roof replacement provides the best way to get your roof back on track. Popejoy Roofing provides customized commercial roofing in Logan County IL. We can provide replacement options to best suit the needs of your facility. In fact, we even specialize in flat roofs, a lower cost option for new construction or businesses with roofs that have no slope or minimal slope.
Commercial Roof Repair
Did your industrial or commercial building spring a leak during a recent storm? Then, call Popejoy Roofing right away to provide emergency repair for commercial roofing in Logan County IL. From hail damage to storm damage to regular wear and tear, our team will respond quickly to support you in your time of need. Our contractors can quickly restore peace of mind and safety at your facility after you have weathered the storm or discovered the issue. Contact us to receive a free roof inspection and get the answers you need to provide the best solution for your repair.
Request a Free Quote
Do you need a free estimate to fix a problem with your commercial roofing in Logan County IL? We will respond within 1 to 2 business days of your request. Plus, we will provide you with a written proposal that details the entire job scope, pricing information, payment policies, and cleanup responsibilities. That way, you can get all the information for a fast and stress-free shopping experience. Contact us online or give us a call at 309-530-4204 to schedule a free roof inspection or get a free quote.