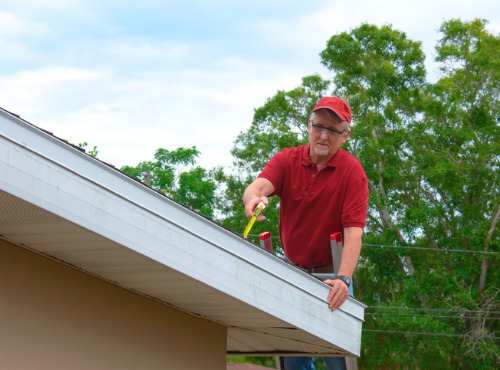 A Quality Champaign Roofing Company
Roofs weren't made to last forever. Throughout the years, things like wind, rain, and hail can do a considerable amount of damage to a building's exterior. Individuals can care for their roofs through routine maintenance, but when weather conditions cause shingles to crack, crumble, or sag, it's time to get them checked out. When searching for a trusted Champaign Roofing Company, consider partnering with Popejoy Roofing—a family-based business that provides installations, inspections, and repairs on both residential and commercial roofs.
Professional, Reliable Customer Service
Admired by many for its client-centered approach, Popejoy Roofing got its start in 2016 when owner John Popejoy first founded the business. When the company began, Popejoy already had several years of successful experience behind him. So it was upon that knowledge that he built his business. Today, the owner can be found on the site of every job, ensuring that each task is completed as efficiently as possible. Because of this level of concern, the company has earned a reliable reputation.
What to Expect
Since every Champaign Roofing Company works differently, it's crucial to understand a contractor's price, process, and protection plan before proceeding. When a client chooses to partner with Popejoy Roofing, they can anticipate the following:
Fast, Affordable Pricing Options

Not all companies respect a client's hard-earned time or money. At Popejoy Roofing, we know the value each client adds to our company. Because we appreciate the business, we offer free quotes within 1-2 working days of a request. In addition to accurate, timely estimates, we also conduct proposals for each potential client. Since we strive to be transparent in everything we do, we let customers know what to expect upfront. Clear concise proposals allow us to educate the client on the project without leaving any room for miscommunication.

Reliable Warranties

A fresh set of shingles should last several years, but if improperly installed, you could spend a fortune on additional repairs. When partnering with Popejoy Roofing, there is no need to worry over extra expense. Not only does our talented team of professionals inspect roofs both before and after installation, but we are so confident in the quality of our work that we also supply clients with a 10 Year Workmanship Warranty. That way, in the rare event that an issue does happen to arise, you're already covered.

Accident Insurance
In addition to accommodations in price and protection, Popejoy Roofing also ensures safety through accident insurance. While many contracting companies rely on the homeowner to cover these costs, Popejoy Roofing works with a third-party provider. In the event of an accident or injury, you can place your trust in Popejoy.
Contact Us
Are you looking to have your roof repaired by a quality Champaign Roofing Company? Consider partnering with Popejoy Roofing! For additional questions concerning prices and processes, call (309) 530-4204 or fill out a form to request a free quote today. Our inbox is always open, so feel free to email us at popejoyroofing@gmail.com. We are happy to help in any way we can.