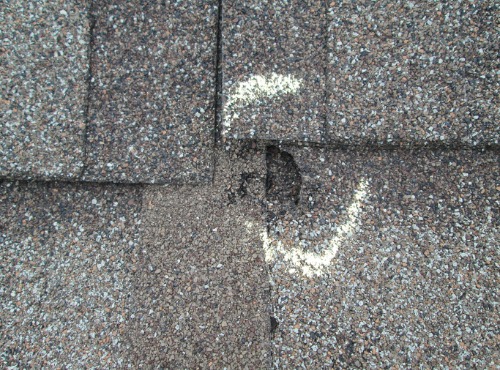 Emergency Contractor for Roof Hail Damage in Pontiac IL
Popejoy Roofing contractors can respond quickly to assess and address roof hail damage in Pontiac IL. This sort of damage is not always easy to spot from ground level. However, you face serious injury risk if you try to get on your roof to inspect for hail damage yourself without proper safety equipment. For that reason, we recommend that you request an inspection from one of our licensed, bonded, and insured roofing experts. With 25 years of experience, we know how to work with your insurance company, saving you any inconvenience if you need roof replacement or roof repair.
In addition, our company installs products that better protect your roof from hail damage. As a premium Malarkey partner, we use rubberized asphalt shingles that come with the greatest protection rating against hail damage. Malarkey shingles outperform and last longer than standard shingles to give you more value. Depending on your taste and budget, you can choose from Malarkey's Legacy, Vista, and Highlander shingles.
Contact us today for a free estimate. Our high level of customer satisfaction attests to the quality workmanship that we provide.
Signs of Potential Roof Hail Damage in Pontiac IL
As mentioned above, it is not always easy when looking up from the ground to spot roof hail damage in Pontiac IL. However, we want to provide you with a few tips on some warning signs that you should at least get a roof inspection from Popejoy Roofing. Give us a call if you notice any of the following:
Dents on Gutters and Downspouts – Hail with enough impact force to leave dents and dings on your gutters and downspouts will also damage your shingles.
Mailbox Damage – Cracks or holes in plastic mailboxes or dents on metal mailboxes indicate that a hailstorm hit your property. That kind of damage on your mailbox also means you likely have roof hail damage in Pontiac IL.
Splatter Marks on Your Driveway – Hail splatter marks result in areas that are lighter in color than the rest of the driveway or sidewalk. This indicates that hail splattered with enough force on your driveway or sidewalk to remove surface dirt or materials. With that kind of impact, your shingles will also likely sustain damage.
Damage to Siding or Windowsills – Cracks, dents, dings, splatter marks, holes, or paint chips on your siding or windowsills also point to likely hail damage on your roof.
Why Choose Popejoy Roofing for Roof Hail Damage?
Not all roofing contractors provide the same quality of products and services. For the best return on your investment, you should trust Popejoy Roofing to fix your roof hail damage in Pontiac IL. Our partnership with Malarkey allows us to offer you their 30-year warranty on shingles. In addition, we also warranty our workmanship for 10 years. So, we will come out and repair any problems with our labor for free during that span. Furthermore, we put everything in writing when you request a quote. Within 1 to 2 business days of your request, we will provide a written job proposal that details the project price, payment policies, warranty information, and cleanup responsibilities.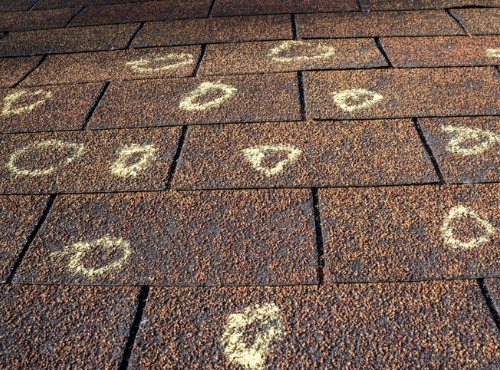 Schedule an Inspection for Roof Hail Damage
If you suspect you have roof hail damage in Pontiac IL, let a Popejoy Roofing contractor inspect it and report their findings. If you do need roof repair or roof replacement, we can work directly with your insurance provider to take the hassle out of the process. Contact us today to schedule an inspection of your roof. For other questions, please call 217-600-2464. In addition to roofing services, we can also provide you with flashing repair, attic ventilation systems, gutter cleaning.