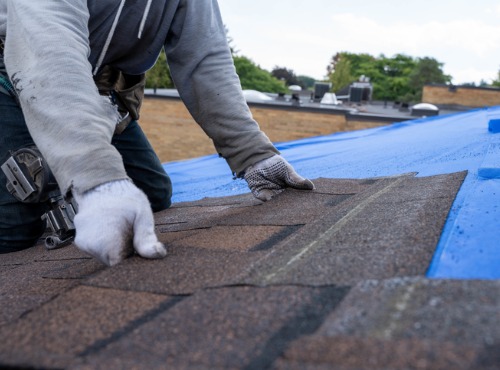 Top Contractor for Residential Roofing in Macon County IL
Popejoy Roofing is your top local contractor for affordable and long-lasting residential roofing in Macon County IL. Whether you need roof installation or roof repair, our dependable roofers are licensed, bonded, insured, and trained to do quality work. With us, you get premium products because we are a Malarkey premium installer. That means you get the best shingles from top brands like Vista, Highlander, and Legacy. Plus, our partnership with Malarkey allows us to offer you the highest manufacturer warranties available on products we install.
Our company puts more than 25 years of experience with residential and commercial to work for your benefit. Our owner provides oversight at each one of our job sites to maintain high quality workmanship standards. Plus, all our roofing experts are competent professionals who receive licensing to perform roofing work at your home. In addition, we provide prompt and courteous communication. For starters, we provide free roofing estimates within one to two working days of your request. If you would like a free quote, please give us call now at 217-600-2464 or fill out our online contact form.
Installation of Residential Roofing in Macon County IL
When your property needs installation of residential roofing in Macon County IL, we begin by removing the old materials. Then, we inspect your roof for water damage and replace any rotted wood. Then, we will get your roof back to compliance with municipal codes by reframing damaged wood sections. Next, we will create a water-tight membrane by using plywood to build a new roof base. As a result, your home will receive better protection from water leaks. Finally, we will install beautiful new shingles that match exactly the color and style you want. Our premium products come with warranties for up to 30 years of protection!
Repair of Residential Roofing
If you have an aging roof, you can get many great benefits from hiring us for repair for residential roofing in Macon County IL.
Better Protection from Water – You may not think a few cracked, missing, or split shingles look like a major problem. However, you may not see underlying water damage occurring to the wood beneath your shingles. If that happens, you will spend a lot for extensive replacement materials when you install a new roof. However, roof repairs can prevent a small problem from growing into a major concern.
Save Money on Power Bills – Holes in your roof allow more hot or cold air to get into your home. Consequently, you will need to spend more on energy by using your HVAC to cool or heat your home. When you repair the damaged roofing materials, you create a protective seal for you home from those weather extremes. That way, you do not spend a lot to better moderate temperatures inside your home.
Improve the Look of Your Home – Your curb appeal takes a major hit if you have faded, damaged, or stained shingles. Your home will look a lot better if you replace those rough patches of damaged roofing materials. Consequently, your home can attract bigger offers when you look to sell it.
Other Roofing Services Available
In addition to installation or repair of residential roofing in Macon County IL, Popejoy Roofing provides other helpful services that improve your home. Please follow these links to find out more about how our services can protect your home from water damage and provide better energy efficiency.
Contact us for Residential Roofing in Macon County IL
Popejoy Roofing will respond within one to two business days when you want a free quote for residential roofing in Macon County IL. Give us a call today at 217-600-2464 for an estimate or more information. You can also reach us online to request pricing information or ask us a question by filling out our contact form. Join our large group of satisfied customers today!