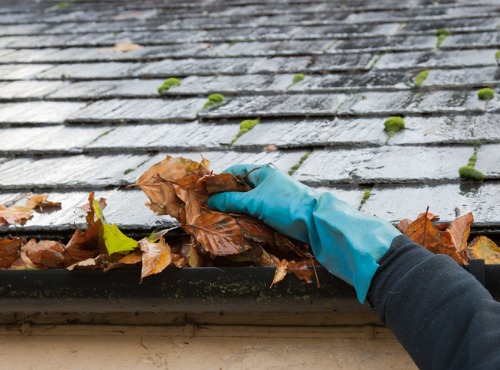 Gutter Cleaning for Fairbury IL Done Right
As you might expect, the contractors at Popejoy Roofing spend a significant time on roofs. And something we often notice when performing roof inspections is the need for gutter maintenance. Gutters aren't only an integral part of protecting your roof, but your entire property! Thus, gutter cleaning for Fairbury IL and throughout the Midwest is essential for any home or business.
When's the Right Time for Gutter Cleaning?
It might not be immediately apparent when gutter cleaning becomes necessary for your property. However, if you know the warning signs, you can call Popejoy before a clogged gutter causes water damage, a leaky roof, a cracked foundation, and other severe problems.
Does Water Reach Your Downspouts? – Gutters are designed to catch water rolling off your roof and funnel it away from the side and base of your property. However, if water isn't reaching your gutters' downspouts, it's likely flowing over the sides of your gutters. In winter, this becomes more apparent if icicles begin to form over your gutters' edges.
Do Your Gutters Seem Straight? – Bends, breaks, cracks and leaks in your gutter can also contribute to eventual water damage. If debris is blocking the flow of water, it can pool in certain sections. And while gutters are durable, enough weight in one area can cause enough stress to bend or break your gutters. Moreover, once your gutters lose their shape, cleaning alone won't fix the flow of water.
How Long Has It Been Since Your Last Gutter Cleaning? – Additional signs you need gutter cleaning in Fairbury IL include stain marks on your siding, pests making their home in your gutters, or plant growth on or near your gutters. However, the most significant sign of a gutter needing cleaning is the passage of time. If you don't know the last time your gutters were cleaned, that means you're due. On average, gutters should be cleaned twice a year.
Do More with Your Local Roofing Experts
Gutters are only one part of your roof. At Popejoy, we cover every aspect of roof repair and installation. With over 25 combined years of experience, our team strives to offer the area's highest quality service with complete customer satisfaction. And to ensure your every roofing need is met, we offer:
Contact Us Today
When the time finally comes for gutter cleaning in Fairbury IL, you can rely on the expert work of Popejoy Roofing. To learn more about our services or request a free quote, you can call us today at 309-530-4204. Also, you can reach us via email at popejoyroofing@gmail.com.