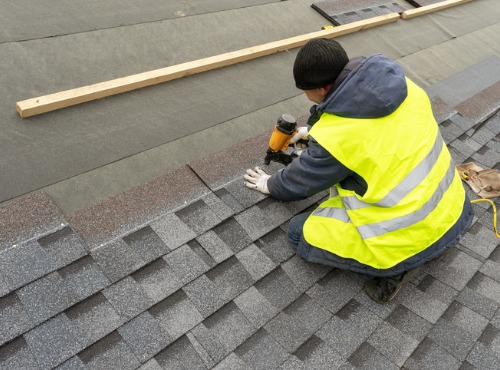 Top 5 Services from a Trusted Local Roofing Company in Fairbury IL
Popejoy Roofing is your respected local commercial and residential roofing company in Fairbury IL. Get a free quote today by calling us at 217-600-2464.
Our company utilizes more than 25 years of experience when you need roof repair or total roof replacement. We use only licensed, bonded, and insured contractors to ensure you receive quality workmanship. Plus, we offer premium products like Legacy, Vista, and Highlander shingles as part of our partnership with Malarkey. Most of our products come with a 30-year manufacturer's warranty. In addition, we guarantee our workmanship and will resolve any problems for free.
Request a free estimate now through our online contact form. We can respond within 1 to 2 business days with a customized proposal for you. In addition to roof repair and roof installation, please consider our top roofing company in Fairbury IL for the following services:
Adding adequate attic ventilation allows you to control temperatures inside your home better, cut your utility bill, and protect your roof against mold. Popejoy Roofing can install fans and vent to ventilate your attic if your home does not have proper ventilation. It is one of the many services that make us a top roofing company in Fairbury IL.
Gutters clogged with leaves and debris can cause water damage, moisture accumulation on your roof, deterioration of your gutter system, and stains on siding. Let Popejoy Roofing contractors provide seasonal maintenance to ensure your gutters remain clean.
Damaged or flashing that is installed poorly around your chimney creates water leaks and can cause the growth of mold or algae. Leaks and mold damage your roofing materials and create a health hazard. Moisture can also get trapped in your roof. That moisture will rot wood beams and roofing materials, costing you a lot in repairs. Contact Popejoy Roofing immediately if you notice leaks around your chimney.
Flashing prevents water damage from affecting many areas of your roof. You should contact us if you see bends, dents, cracks, or holes in your flashing. That sort of damage can cause roofing materials to corrode. It can also cause leaks that damage the interior of a home.
Request a Free Estimate
Popejoy Roofing realizes you need a roof you can trust. So, we provide the finest quality products and workmanship to allow you to trust our top roofing company in Fairbury IL. Give us a call today at 217-600-2464 to get a free quote on your roofing needs. We provide roof repair or roof installation on both commercial and residential buildings. Also, we welcome you to find helpful resources on our website like more information about us, client reviews, and access to a tool to design your own roof.