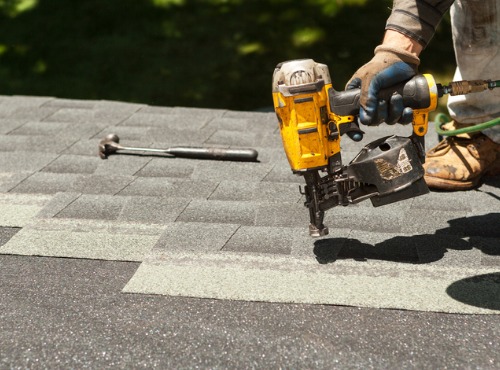 Customers Say We Offer Top-Rated Roofing in Charleston IL
Customers give Popejoy Roofing great reviews when we install new roofing in Charleston IL. Call 309-530-4204 to get a free estimate to install your new roof today.
There are many reasons our customers make us their top choice when they need a roof replacement. Here are some of the ones they list most frequently in their praise of our service:
We offer a 10-year warranty on our workmanship.
All our roofing contractors are licensed for residential and commercial roofing work.
Popejoy Roofing carries its own insurance, so homeowners have no liability if there is an accident on the job.
Our services are backed by a bonding company willing to insure us.
We are a Malarkey Partner which allows us to offer great products like Highlander, Vista, and Legacy shingles.
Our owner John Popejoy oversees each work project on site to ensure quality workmanship and that we meet project deadlines.
Popejoy Roofing is a local contractor with roots in the community of Charleston IL. Our owner graduated from Eastern Illinois University in Charleston and is a lifelong Central Illinois resident.
We give free roofing estimates within 1 to 2 business days of a request.
All our project proposals include pricing, payment policies, information on warranties offered by us and material manufacturers, and responsibility for clean-up work.
You can use our online tool to design your own roof.
Contact us to work with qualified professional roofers that customers rank as their top choice for roofing in Charleston IL.
Comprehensive Repair Services for Roofing in Charleston IL
Popejoy Roofing offers many services that help customers get the most life out of their roofing in Charleston IL. Read on to review all the ways we can help you with maintenance or repair.
Flashing protects many areas of your roof from water damage. You should give us a call if you notice any bends, dents, cracks, or holes in your flashing. Damage like that can lead to corrosion of roofing materials and leave your house vulnerable to leaks.
Damage or improperly installed flashing around your chimney can lead to water leaks and the growth of mold or algae. These conditions not only damage your roofing materials but also pose a health risk. Moisture can also get trapped in your roof and rot wood and roofing materials which causes costly repairs. Contact Popejoy Roofing right away if you notice leaks around your chimney.
Proper attic ventilation allows you to better control temperatures inside your home, savings on your monthly energy bill, and added protection from your roof against mold. Popejoy Roofing can install a system of fans and vents from your attic if your home does not have proper attic ventilation.
Gutters clogged by leaves can lead to water damage, moisture accumulation on your roof, deterioration of your gutter system, and stained siding. The helpful roofers at Popejoy Roofing can provide seasonal maintenance to clear the leaves and other debris.
The extreme weather experienced in Central Illinois causes decking materials to wear out just like materials on your roof. Also, severe thunderstorms and wind can cause tree limbs and other debris to damage your decking. If that happens, call Popejoy Roofing. We are roofing experts who can also repair or replace your deck if you notice surface damage, broken posts, or have worn out decking.
Request a Free Quote Today
Popejoy Roofing makes it simple, easy, and painless to maintain, repair, or replace your roofing in Charleston IL. Call us now at 309-530-4204 to tell us how we can help you today. You can also contact us online to request a free estimate.