Emergency Roofers in Mattoon IL
Popejoy Roofing can respond quickly when a severe storm or inclement weather causes you to need emergency roofers in Mattoon IL. Call us at 309-530-4204 to make it easy, affordable, and painless to repair or replace your damaged roofing.
The combination of high winds, torrential rain, and flying debris can create punctures, holes, or leaks in your roofing materials. In fact, some Central Illinois windstorms are powerful enough to create the type of suction pressure that can completely blow off roofing materials. Periods of extended, heavy rainfall can also further damage weak spots in your roof and create new leaks. If your roof gets a leak, you run the risk of water damage, mold, and algae growth that poses a health hazard.
You may find it hard to get some roofing companies to answer the phone after a storm because of the demand for services. Rest assured, Popejoy Roofing will quickly process your request and schedule an appointment to provide you a free estimate within one to two business days.
Contact us right away if a storm, high winds, or heavy rainfall damages your roof.
Full-Service Roofers in Mattoon IL
Popejoy Roofing contractors have more than 25 years of experience as licensed professional roofers in Mattoon IL. We provide a variety of roof maintenance, roof repair, and roof replacement services. As a Malarkey Partner, we offer quality roofing materials such as Legacy, Highlander, and Vista shingles when you need replacement products.
Also, we add a 10-year workmanship warranty along with the warranties offered by product manufacturers of your roofing materials. In addition to the installation of new roofing for residential and commercial locations, we provide the following services:
The right attic ventilation allows you to control temperatures inside your home better, cut your utility bill, and protect your roof against mold. Popejoy Roofing can install fans and vent to ventilate your attic if your home does not have proper ventilation.
Damage or poorly installed flashing around your chimney can cause water leaks and the growth of mold or algae. Leaks and mold damage your roofing materials and create a health hazard. Moisture can also get trapped in your roof. That moisture will rot wood beams and roofing materials, costing you a lot in repairs. Contact Popejoy Roofing immediately if you notice leaks around your chimney.
Flashing prevents water damage from affecting many areas of your roof. You should contact us if you see bends, dents, cracks, or holes in your flashing. As a result, damage can cause roofing materials to corrode. It can also cause leaks that damage the interior of a home.
Gutters clogged with leaves and debris can cause water damage, moisture accumulation on your roof, deterioration of your gutter system, and stains on siding. Let Popejoy Roofing contractors provide seasonal maintenance to ensure your gutters remain clean.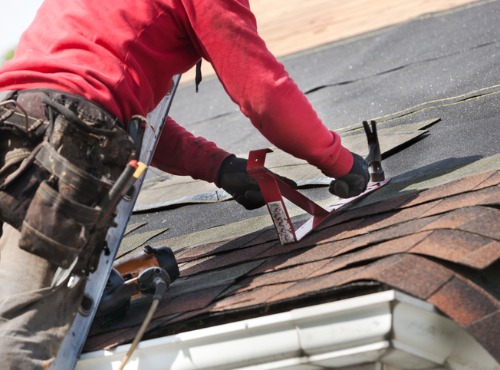 Request a Free Quote from Our Roofers in Mattoon IL
Popejoy Roofing can provide a free estimate for your roofing within one to two business days of your request. Call us at 309-530-4204 to schedule an appointment with our licensed, bonded, and insured contractors. If you prefer to send us an email, you can contact us online to get a quote.