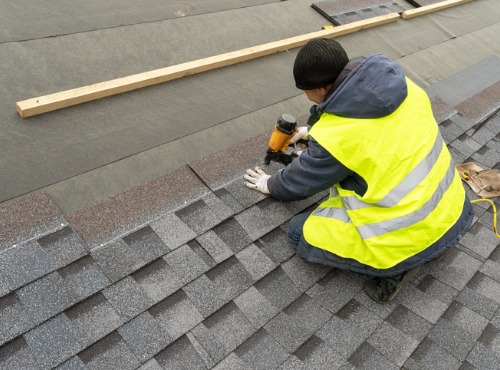 We Take the Hassle Out of Residential Roofing in Mattoon IL
Popejoy Roofing provides fast and easy maintenance, repairs, and replacement of residential roofing in Mattoon IL. Call your trusted local roofers at 217-600-2464 for a free estimate.
When the latest storm damages your roof, count on Popejoy Roofing to provide timely repairs to keep your home's interior protected. If you have enjoyed the use of your roof for 20 years or more, you should call us for your replacement products. After all, we are a Malarkey Partner that offers superior roofing products from Vista, Highlander, and Legacy. Plus, our staff can perform seasonal inspections and cleanings to maintain your roof for the next 20 years or more.
When it comes to roofs, Popejoy Roofing has you covered. Contact us now to get a free quote for maintenance, repairs, or replacement of your residential roofing in Mattoon IL. You will enjoy working with us. However, you do not have to take our word for it. We invite you to read reviews from our clients about our quality work.
How Do I Know if I Need a New Roof?
Popejoy Roofing uses only licensed, bonded, and insured roofers for your residential roofing in Mattoon IL. Therefore, our team contains the experience you need to help you determine if you need roof replacement. One of our experienced Mattoon area specialists will inspect your roof. Then, we will provide a free roof replacement estimate outlining the extent of damage or wear and tear on your current roof. For a quick reference, you may need new residential roofing in Mattoon IL if your roof exhibits any of the following signs:
It contains materials 20 years or older.
The roof looks old or worn.
Hail or severe storms have caused damage.
It leaks.
Shingles contain cracks, bends, tears, curling, or blistering.
Sections of your roof are missing shingles.
Your roof contains shingles with extensive granule loss, making fiberglass visible.
Common Issues that Require Repair of Residential Roofing in Mattoon IL
Not all damage to your roof requires replacement. Popejoy Roofing can supply the finest materials at the best price when you need roof repair. So, contact our experienced team to conduct an inspection of your roof. Our specialists get trained to find all the issues associated with repairing or replacing your residential roofing in Mattoon IL. This helps to prevent from covering up a problem, and you getting a larger than expected bill. Thus, please call Popejoy Roofing if you notice any of the following common issues:
Wet spots on your ceiling likely means your roof is leaking.
Improper roof ventilation also can cause problems with water damage.
Damaged flashing will also often create water leaks to the interior of your home.
Missing shingles or shingles that have lost granules due to decay also require fast repairs
Rotting soffit and fascia materials
Plumbing jacks, air conditioning vents, and heating stacks with rotted materials
Other Services We Offer
Popejoy Roofing offers many service options to help you maximize the useful life of your residential roofing in Mattoon IL. Seasonal maintenance and timely roof repairs can put off total roof replacement for as much as 10 years. Therefore, do not hesitate to call Popejoy Roofing for any of the following roof maintenance or roof repair services:
Schedule a Free Inspection
Popejoy Roofing offers premium products and a 10-year warranty on our workmanship on residential roofing in Mattoon IL. Call us today at 217-600-2464 to arrange for a free inspection of your roof. In addition, you can also ask for a free quote through our online contact form. Plus, we can help if you need repair, maintenance, or replacement of commercial roofing, too.