Looking For A Plumber In Dunlap IL?
Reading Plumbing is the plumber Dunlap IL trusts. We offer the full array of commercial and residential plumbing services.
What Plumbing Services Are Available?
From simple things like fixing a leaking pipe to an entire commercial restroom remodel and everything in between, Reading Plumbing is the plumber Dunlap IL trusts.
How Much Experience Does Reading Plumbing Have?
Owner and founder Jim Reading has been serving the community since 1969 and founded Reading Plumbing Inc. in 1984. Reading Plumbing serves major retailers, restaurants, real estate management firms and residential clients. We offer high ethical standards and workmanship to all our customers, both residential and commercial.
How Can I Update My Bathroom?
We can help you update your bathroom with fresh new fixtures or we can gut the room and give you a whole new bathroom – it's your choice! We'll help you go through the options that fit your taste, budget and preferences, and then we'll install everything in a professional way. We aim for complete customer satisfaction for every job.
Can Reading Plumbing Save Me On My Taxes?
Talk to us about choosing residential plumbing products that qualify for tax breaks due to their Energy Star rating.
How Can I Take Better Care Of My Pipes And Plumbing Systems?
We want to help you take good care of your pipes and plumbing system. Here are some of our tips:
Do not use liquid products sold to unclog your drain. Use hot water and baking soda instead.
Set your water heater at 120 degrees F.
Use a water softener.
Switch to water-saving shower heads and low-consumption toilets.
Don't put anything down your drains or garbage disposal that you could put in the trash.
Flush your water heater every six months to a year, depending on how many people live in your house. Ask us about recommendations.
Use white vinegar to clean calcium deposits from your fixtures instead of harsh chemicals.
Attend to any leak immediately. Don't wait!
If you don't already have stainless steel or "flood control" supply lines installed on your faucets, talk to us about installing them.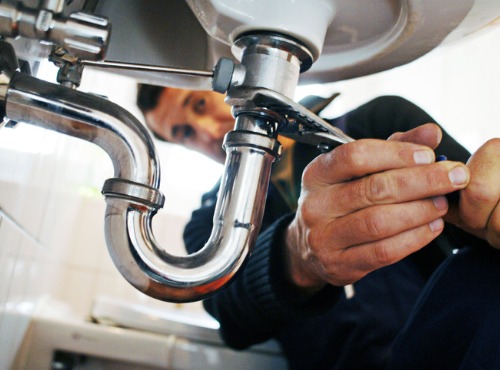 Can I Pay My Plumbing Bill Online?
Yes, we make paying your bill easy. You can pay your bill online using any of the common credit cards.
Are You Ready To Hire Dunlap's Favorite Plumber?
Call Reading Plumbing at 309-692-2762 to hire the plumber Dunlap IL trusts.